Lately, and tragically, not a month can pass in Europe without some deadly, mass shooting event whose inspiration is supposedly racial hatred.
A police officer guards the street around the Noerrebro train station in

https://twitter.com/hashtag/Copenhagen?src=hash

on February 15, 2015.

https://twitter.com/hashtag/AFP?src=hash

pic.twitter.com/SWFDQ22tyE

— AFP Photo Department (@AFPphoto)

https://twitter.com/AFPphoto/status/566943726283800576
One month after the Charlie Hebdo massacre in Paris which left 20 people dead, another series of deadly shootings rocked otherwise quiet Copenhagen this weekend, where the person suspected to be responsible for the death of two people and injuring five first at a freedom of speech event and subsequently, at a synagogue in Copenhagen, was killed by police early in the Sunday morning hours.
According to NBC, police said the suspect opened fire on officers as they were monitoring an address in Norrebro while investigating the two shootings. Authorities did not identify the suspect, who was killed when police returned fire.
The first shooting happened before 4 p.m. Saturday when the gunman used an automatic weapon to shoot through the windows of the Krudttoenden cultural center during a panel discussion on freedom of expression featuring a Swedish artist who had caricatured the Prophet Muhammad. The artist, Lars Vilks, was whisked away unharmed by his bodyguards but a 55-year-old man attending the event was killed, while three police officers were wounded, authorities said.
Vilks, 68, has been the subject of death threats for his previous caricatures of the Prophet Muhammad as a dog. He was not injured in the shooting, which the Danish prime minister described as a "terrorist attack." Vilks told The Associated Press that he believes he was the target of the shooting. "What other motive could there be?" he said, and referred to the attacks on the offices of the French satirical magazine Charlie Hebdo in Paris in January. Vilks has been threatened before: a Pennsylvania woman last year got a 10-year prison term for a plot to kill the cartoonist. In 2010, two brothers tried to burn down his house in southern Sweden and were imprisoned for attempted arson.
The attack at the synagogue occurred hours later, shortly before 1 a.m. Sunday. Denmark's Chief Rabbi, Jair Melchior, identified the Jewish victim as Dan Uzan, 37, a longtime security guard for the 7,000-strong community. He was guarding a building behind the synagogue during a bat mitzvah when he was shot in the head. Two police officers who were there were slightly wounded.
About four hours later, the shooter was confronted by police as he returned to an address that they were keeping under surveillance. Investigators described him as 25 to 30 years old with an athletic build and carrying a black automatic weapon. They released a blurred photograph of the suspect wearing dark clothes and a scarf covering part of his face.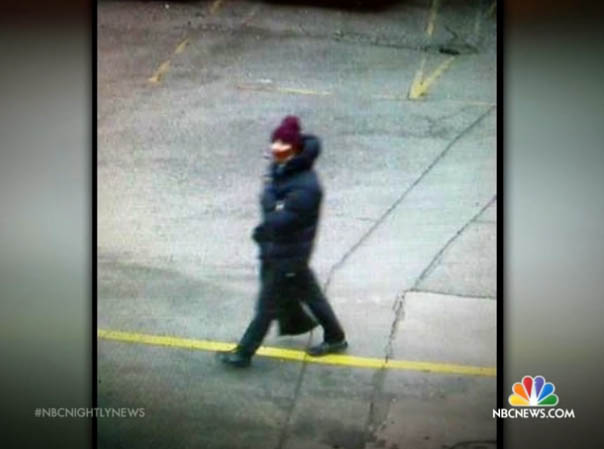 The alleged suspect captured here in a closed-circuit camera.
"We are working under the assumption that it was the same perpetrator who was behind both shooting incidents," said Police Commissioner Torben Molgaard Jensen. "And we are also working under the assumption that the perpetrator who was shot by SWAT police...is the person who carried out these attacks."
Danish Intel service says

https://twitter.com/hashtag/cphshooting?src=hash

gunman known to them, may have been motivated by

https://twitter.com/hashtag/CharlieHebdo?src=hash

attack, looking whether link to

https://twitter.com/hashtag/Syria?src=hash

— Jon Williams (@WilliamsJon)

https://twitter.com/WilliamsJon/status/566941752272379904
More troubling, just like in the Charlie Hebdo murders, the gunman was said to be have been inspired by Islamic radicalism according to Jens Madsen, head of the Danish intelligence agency PET.
"PET is working on a theory that the perpetrator could have been inspired by the events in Paris," Madsen said, according to the AP. "He could also have been inspired by material sent out by (ISIS) and others."
At a news conference Madsen also said investigators have identified the suspect and that he is someone who had been on the agency's "radar." He did not reveal his identity.
The attacks took place two days after Denmark and its partners in the European Union agreed to dramatically boost cooperation in the counter-terrorism field as a result of the January attacks in Paris, which claimed the lives of 17 victims.
The EU's law enforcement agency, Europol, said Sunday it was in contact with Danish authorities and proposing its help to find out as much as possible about the Copenhagen gunman and whether he was acting alone or in concert with others. "We are offering our expertise and capabilities from our anti-terrorist unit including access to our databases," said Europol spokesman Soeren Pedersen.
Danish Prime Minister Helle Thorning-Schmidt put the entire nation on high alert and on Sunday visited the scene of the synagogue shooting. "Denmark has been hit by terror," she said. "We do not know the motive for the alleged perpetrator's actions, but we know that there are forces that want to hurt Denmark. They want to rebuke our freedom of speech."
The U.S. condemned the shootings and said it was ready to help the Danish government investigate, if asked. "We offer our condolences to the loved ones of the deceased victim, and our thoughts are with those wounded in this attack," U.S. National Security Council spokesperson Bernadette Meehan said.
Israel's Prime Minister Benjamin Netanyahu decried the attack and said his government plans to encourage a "massive immigration" of Jews from Europe. "Again, Jews were murdered on European soil just because they were Jews," Netanyahu said at the start of his Cabinet meeting Sunday. "This wave of attacks is expected to continue, as well as murderous anti-Semitic attacks. Jews deserve security in every country, but we say to our Jewish brothers and sisters, Israel is your home."
And while this latest attack may have ended, the imminent threat of more deaths prompted authorities to cancel on short notice a carnival parade in the northern German town of Braunschweig planned for Sunday lunchtime, notice due to a concrete threat of an Islamist attack, police said.
"Reliable state security sources have made it known that a concrete threat of attack with an Islamist background exists," authorities in Braunschweig said in a statement. Police called on all visitors to refrain from visiting the planned route of the carnival parade and avoid travelling to Braunschweig.
If tragic history is any precedent, this will hardly be the end of the Europe's resurgent wave of hate crimes: hate, which the pseudo-federalization of Europe and its conversion to a political, customs and monetary union (which itself has been the cause of so much pain and suffering for millions of Europeans) was supposed to prevent.
Which, of course, is not to say that the US is any better. Presenting: Chicago.