EURCNH was among the most popular carry trades - a stable long leg and central bank sponsored weakness in the sell leg. That is why, now that The PBOC has peed in the punchbowl, all that easy money carry has been forced to unwind as volatility forces traders to buy EUR and sell CNH en masse, shuttering the carry-funded trades as they go. No where is that more clearly visible than the plunge in European stocks.
*EUROPEAN SHARES CLOSE LOWER; STOXX 600 FALLS 2.7%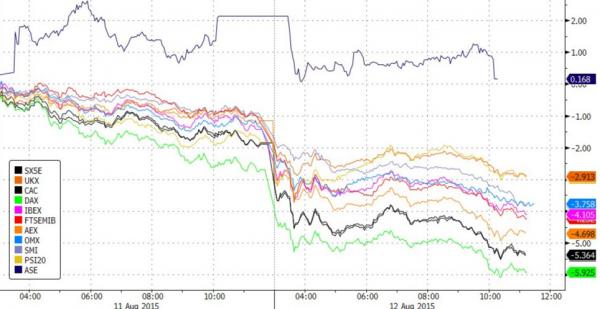 This is the biggest 2-day drop since 2014.
And no, there is no rotation to US of this 'money' as it is all credit-created positioning, once the carry-trade is unwound the entire funding position is removed from market liquidity.
Charts: Bloomberg