Last time we looked at gold (XAU/USD) we observed a shift from a bullish mode in 2017 to possible a sideways, ranging mode. This is because price action in June failed to push above the 1295 high from April. This was the first time in 2017 when the market couldn't make a higher high.

XAU/USD Daily Chart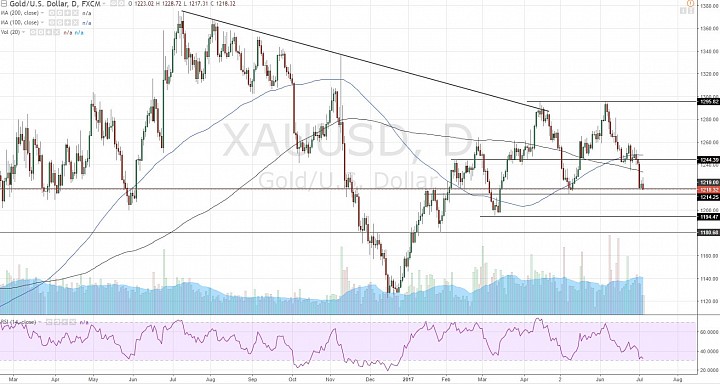 (click to enlarge)

Support:
- In that previous observation, we anticipated a slide to 1215, which would be the range support.
- Indeed this decline materialized and price is now trading right around this support area as we can see on the daily chart above.
- I think we should wait for price to stall, as it might extend below 1215 and still use this pivot as support eventually.
- I would prefer seeing a bullish divergence between price and the RSI before considering any long position.
- Also, in case the market is turning bearish, we should have a conservative target of 1245, the middle of the range.
Reward to Risk:
- Now, let's say we get an entry at 1215 and a stop at 1209.
- With a target of 1245, we would have a reward to risk of 30:6, or 5:1.
- I think even with a conservative target, the reward to risk is decent.
- The only thing is waiting for the current slide to stall because it looks too sharp try to catch.
Next Support:
- If this support around 1215 does not work, we can anticipate support around 1200, with a similar upside, towards 1245, but with maybe a conservative target around 1215. We'll assess this trade idea if the market does indeed push through the current range support.