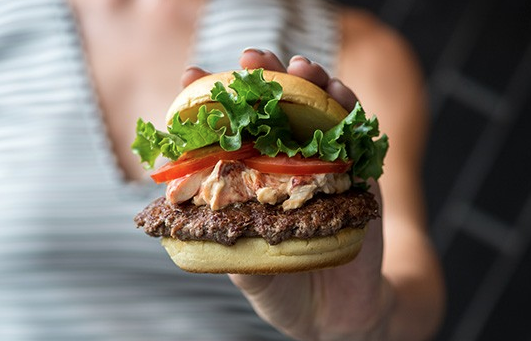 Nothing says New England like lobster, particularly lobster rolls.
Global burger chain Shake Shack (NYSE: SHAK) combined both the flavors of New England summers and traditional burgers by making a limited edition sandwich, the Surf n' Shack.
Made up of a burger and topped with lobster meat, Shack sauce, lettuce and tomato, the item is sure to satisfy any surf n' turf cravings. However, this meal is only available in the Boston and Connecticut areas through September 20.
Lobster AND beef? I'm not sure about this one. Perhaps separately, a lobster roll and a Shack Burger side by side. But together? It just seems like too much on one bun. 
This isn't the only product Shake Shack is testing in special locations, according to Fox News. The burger chain is also testing its first chicken sandwich, the Chicken Shack, made up of a buttermilk-fried chicken breast, herb mayo, pickles and lettuce.
For more business and financial news, click here.
*This is editorial content and expresses the opinion of the author.