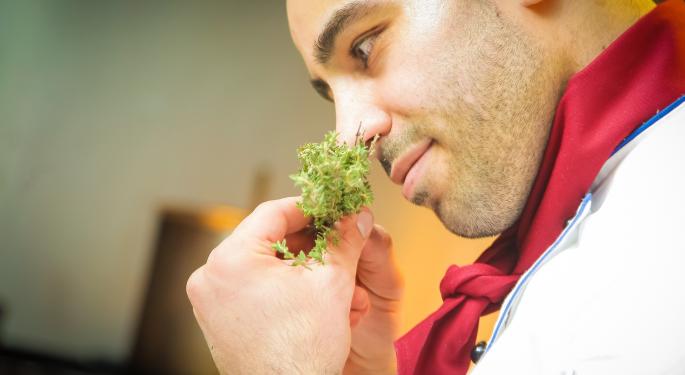 Restaurant stocks closed out 2016 on a mostly high note, but investors are now shifting their focus to how much upside top names have ahead in 2017. Jefferies analyst Andy Barish has adjusted the firm's ratings on a number of leading restaurant stocks and still sees pockets of opportunity for investors.
Some Downgrades
Barish predicts continued headwinds for restaurants in 2017 and has downgraded three of 2016's top performers. Jefferies cut ratings on Dunkin Brands Group Inc DNKN 0.62% and Cheesecake Factory Inc CAKE 0.09% from Hold to Underperform. In addition, the firm cut Wingstop Inc WING 2.04% from Buy to Hold.
The Restaurant Space
"We are most cautious on the casual dining category, where most business models are largely company-owned, and hence, are likely more at risk of seeing margin contraction," Barish explained.
"Franchisors exhibit safer qualities but we believe DNKN (and others) have stretched valuation for less-than compelling fundamental growth."
While restaurants could get a boost from the stimulative policies of the incoming Trump administration, Barish isn't convinced tax cuts and deregulation will be enough for restaurant stocks to thrive in the current competitive environment.
Other than the three downgraded stocks mentioned above, Jefferies raised price targets for the restaurant stocks it covers across the board.
A Handful Of Buys
The firm maintains Buy ratings on the following restaurant stocks headed into 2017:
Date
Firm
Action
From
To
Jan 2017
Jefferies
Downgrades
Hold
Underperform
Dec 2016
Cowen & Co.
Initiates Coverage On
Market Perform
Oct 2016
RBC Capital
Downgrades
Outperform
Sector Perform
© 2017 Benzinga.com. Benzinga does not provide investment advice. All rights reserved.