As we noted earlier today, there was some confusion over the plight of the Greek reform proposal document, which initially was said to have been delayed until today, only for the Troika, pardon, Institutions, to flip around and say they had actually received it before midnight on Monday. How could the two be possible? Courtesy of
https://twitter.com/YanniKouts/status/570212150381301760/photo/1
, who had the simple but brilliant idea of looking at the properties tab in the leaked Varoufakis draft of the agreed to proposals, we now know.
As it turns out, the reason why not only the Troika received an agreed to version of the Greek reform proposals "before midnight on Monday", but rushed these through with a favorable agreement today, is that, drumroll, the European Commission drafted the entire letter!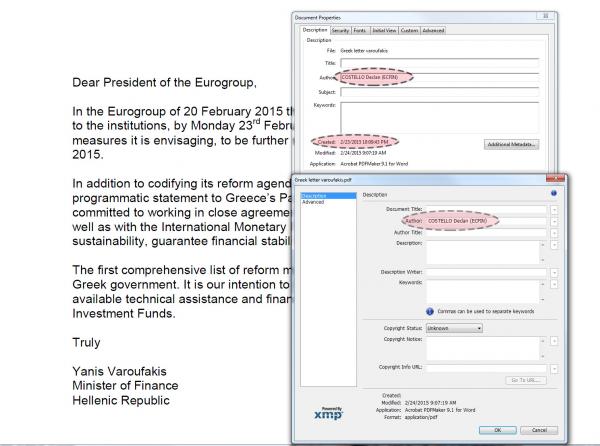 All Yanis Varoufakis had to do was agree to the letter that the Troika had agreed in advance was agreeable to it, and send it back. Don't believe us? Feel free to play around the original pdf "leak" found here.
As for the actual author of the "Greek" reform package, a document which was created at 10:09 pm on Monday, February 23, 2014 (so technically, yes, before midnighton Monday) was one Declan Costello of the European Commission.
Who is Declan? Here is his bio courtesy of the CEPR's Policy Portal, VOX:
Declan Costello

 

Declan Costello is an Economist working in the Directorate General for Economic and Financial Affairs of the European Commission since 1991. Currently he is Head of Unit in the department responsible for the 'Coordination of structural refroms and of the economic service, which is involved in developing the economic framework for analysing progress with structural reforms at EU and Member State level towards raising growth potential (the so-called Lisbon strategy), and developing EU policies in response to the economic crisis. Prior to this, he was Head of Unit dealing with economic analysis of labour markets and social welfare systems, where he co-ordinated a project to make projections on the economic and budgetary impact of ageing populations for EU Member States. He has a degree in economics from Trinity College Dublin and a Masters degree for the College of Europe, Bruges. Representing the European Commission, Mr. Costello is also an alternate member of the Economic Policy Committee (EPC) which advises and prepares the EU's Council of Economics and Finance Ministers (ECOFIN).
Behold the "new Greece" - exactly the same as the old Greece?