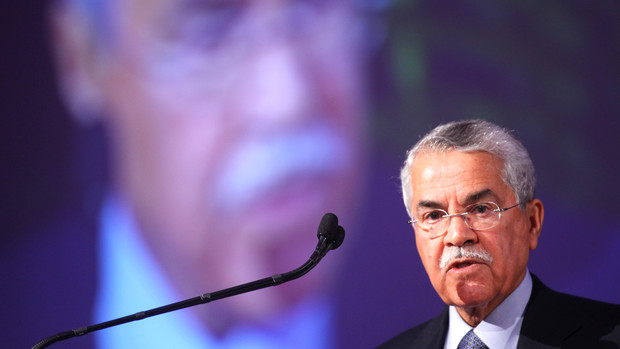 Photographer: Tim Boyle/Bloomberg
Ali Al-Naimi, Minister of petroleum and mineral resources of Saudi Arabia.
Ignore the talk of an OPEC price war, say crude market bulls. Oil's next move was spelled out inSaudi Arabia's own words.
Price cuts announced by the Saudis, including the biggest discounts for Asia since 2008, sparked speculation that the world's biggest crude exporter would let oil tumble rather than cede market share to rivals in OPEC. This is misguided, said UBS AG and BNP Paribas SA. Brent is below the $95-to-$110 range endorsed by Saudi Oil Minister Ali Al-Naimi, ensuring the country will curb output, they said.
Brent, the European benchmark, fell into a bear market amid a surplus of U.S. shale oil and weaker economic growth. The discounts prompted predictions that Saudi Arabia would tolerate lower prices to deter investment in higher-cost U.S. shale. The advance of Islamist militants across a swathe of Iraq and Syria means the kingdom will shore up oil prices to support neighbors instead, BNP Paribas said.
"We do not buy into the argument that there's a price war in the making," Harry Tchilinguirian, head of commodity markets strategy at BNP Paribas in London, said by e-mail on Oct. 6. "Saudi Arabia has always done the heavy lifting when it comes to OPEC supply management. What is key in our view is that it is not in the best interest of OPEC to witness a prolonged period of low prices."