I am bullish on AUD/NZD for in 2016, ever since it managed to hold above the 1.05 handle. I think the pair is developing a long-term inverted head and shoulder and getting set for a medium to long term bull run. 

AUD/NZD Weekly Chart 4/12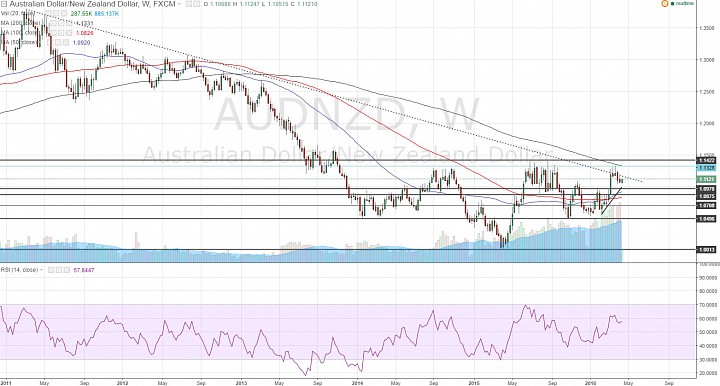 (click to enlarge)

The weekly chart shows that the 1.1330-1.1422 area represents the neckline of the inverted head and shoulder. 

AUD/NZD 4H Chart 4/12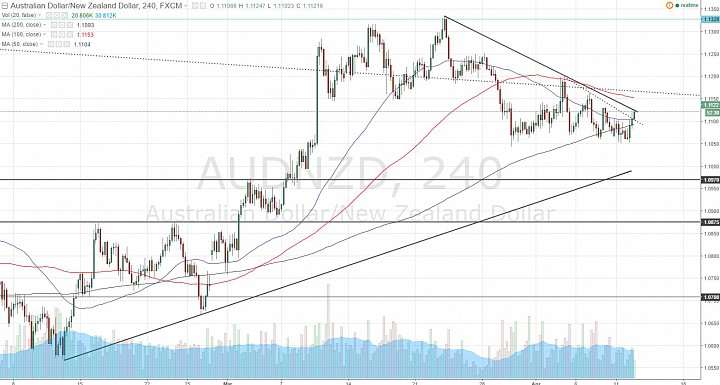 (click to enlarge)
When we go down to the 4H chart, we can see the details of the development of the second shoulder. So far, price has come up to 1.13 and retreated after poking through. However, the dip found support around 1.1050, and AUD/NZD appears to be anchoring upwards from here. 

I would welcome another dip, which could happen because price is being challenged by a falling trendline. If price gets back to 1.11, I would consider going long. Let's examine the reward to risk of a couple of relatively conservative targets. 

Target 1: 1.12; Entry 1.11; Stop 1.1030: Reward: 100 pips, Risk: 70 pips. 10:7 reward to risk. (Not that great, but someone helped by the fact that it is in the direction of the trend.

Target 2: 1.13; Entry 1.11; Stop: 1.1030: Reward 200 pips, Risk 70 pips. 10:3.5 reward to risk (much better). 

These targets do not even consider the likely scenario that price will extend to 1.14. If you split the buy into 3 positions and allow a third "runner" to try getting to 1.14, your reward to risk as a cluster will be better than 2:1. 
If price does break below 1.1050, I will look again at the 1.0970-1.10 area for support.