In July, Canadian housing starts came in at a seasonally adjusted annual rate  (SAAR) of 200,098, up from the 198,665 reading in June. Multiple urban starts decreased to 115,870 as single-detached urban starts increased to 67,062. Meanwhile, rural starts were came in at 17,166.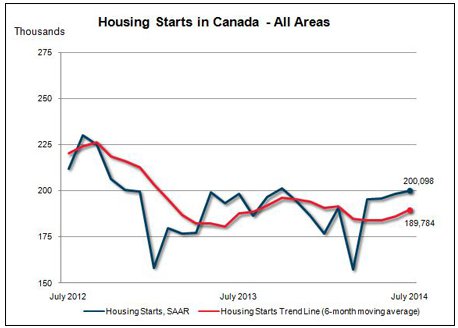 (source: Canada Mortgage and Housing Corporation, CMHC)
Based sole in
July, there were 18,719 housing starts in total. From January to July, the number of starts is 97, 573. These readings are higher than readings for the same periods in 2013. 
The CMHC Cheif Economist, Bob Dugan noted that multiple starts have helped the improving trend in housing starts, but he expects " a soft landing for the new home construction market in Canada."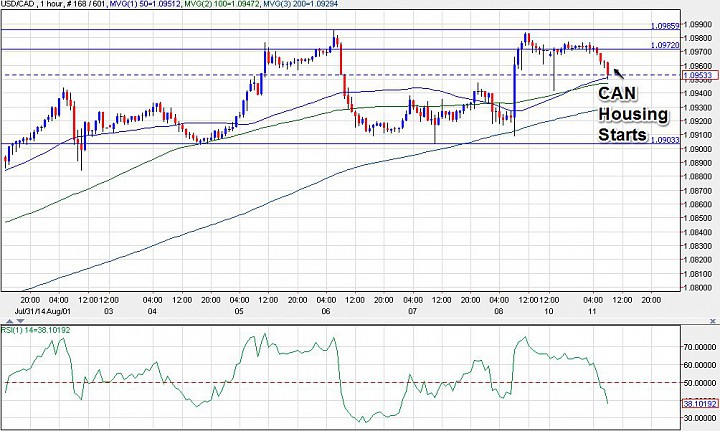 (USD/CAD 1H Chart)
USD/CAD failed to break above last week's high at 1.0986 during Friday, and started this week retreating as well. The USD/CAD might already be in consolidation mode, but it declined faster after the strong Canadian Housing Starts data. 
At this point, the market will be testing a central pivot of recent sideways action, around 1.0940. Holding above 1.0940 would be a sign that bulls are still in charge, and would suggest the bullish continuation scenario.

Below 1.0940, the 1.09 area will be key. A break below 1.09 completes a double top and suggests some bearish correction.