It has been more of the same in the latest quiet overnight session where many await tomorrow's NFP data for much needed guidance, and where Chinese markets opened weaker, rose during the day, then went through a mini rollercoaster, then sold off in the afternoon.  The Shanghai Composite and HS China Enterprises indices finished down .9% and .3%, respectively. Trading volume continued to be very subdued, running at half the thirty day average as some 20 million "investors" have pulled out of the market to be replaced with HFTs such as Virtu.
Despite what some have estimate is as much as a trillion in Chinese "plunge protection" allocation, the Shanghai Composite is now near the lows hit on July 8 when China openly threatened sellers and shorters with arrest. If that low is taken out, China will have a big headache on its hands.
Other Asian equities traded mixed following the positive close on Wall Street where sentiment was supported by strong US data and comments by Fed's Powell which contradicted recent hawkish remarks from Fed's Lockhart. Nikkei 225 (+0.2%) was bolstered by a slew of strong earnings, while gains where further underpinned by JPY weakening to a 2-month low against the greenback. The ASX 200 (-1.1%) was led lower by broad losses in large banks. Finally, JGBs fell following the EU and US counterpart, with losses exacerbated by a weak enhanced liquidity auction drawing the lowest b/c on record.
European shares are lower, for the moment halting a rally that has been on-going since July 28. The Stoxx 600 index is up about 18% YTD. There has been no discernable difference between core and peripheral performance. Despite the looming risk events, including the release of the latest NFP report on Friday and the eagerly awaited "Super Thursday" in the UK today, stocks traded mixed (Euro Stoxx: -0.1 %), with Greece's stock market rebounding after three days of heavy losses. The FTSE-100 index underperformed (-0.3%), weighed on by BP (-3%) and Anglo American (-3%), with both trading ex-dividend. Overall, energy names underperformed, as WTI prices remained under-pressure, while the upside support was provided by industrials and financials sectors.
The release of the much better than expected German Factory Orders data, together with somewhat mixed retail PMIs did little to drive the price action across asset classes , with Bunds and Gilts trading little changed. At the same time, the expected volatility in GBP/USD later on in the session failed to weigh on the pair, which traded with little changed after giving back some of it overnight gains following mixed UK data (Industrial Production M/M -0.4% vs. Exp. 0.10%, Manufacturing Production M/M 0.20% vs. Exp. 0.10%). While the USD (USD-index: +0.1%) heading into the North American crossover flat on the day.
Elsewhere, AUD was in focus overnight following a mixed Australian jobs reports, where AUD initially surged higher amid a significant beat in employment change (M/M 38.5K vs. Exp. 10.0K Prey. 7.3K, Rev. 7.0K ). However, AUD/USD fell below preannouncement levels as the unemployment rate rose to a 7-month high (M/M 6.3% vs. Exp. 6.1% Prey. 6.0%, Rev. 6.1%).
But while stock action has been muted, the story of the night so far is oil and the energy complex broke out of a tight overnight range early in the European session to continue yesterday's downward trend, seeing WTI Sep'15 futures fall below the USD 45.00 handle after yesterday's DoE crude oil inventories saw US crude output rise by 0.552%.
As of this moment oil was trading at $44.72, just pennies above the low print of 2015.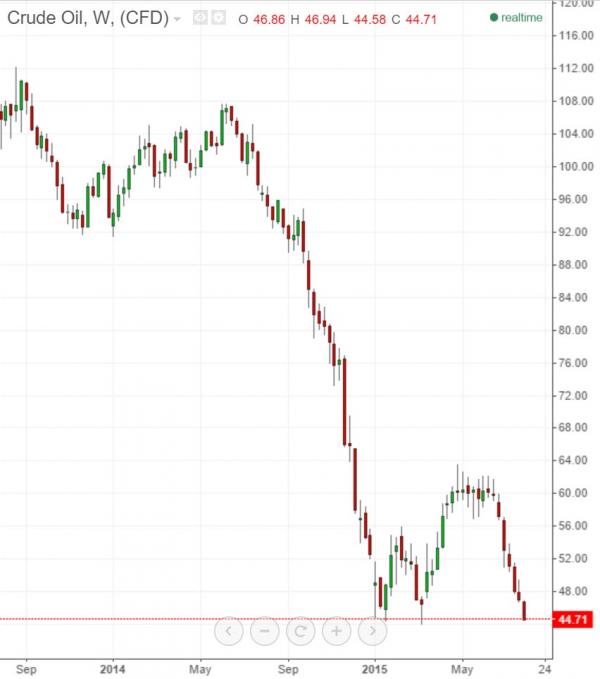 Perhaps the catalyst for the latest weakness was another report out of Goldman's Jeff Currie in which he says the "lost decade reinforces lower for longer." Some more details:
Although spot oil prices have only retraced to the lows of this winter, forward oil prices, commodity currencies and energy equities/credit (relative to the broad indices) have now all retraced to levels not seen since 2005, erasing a decade of gains. This creates a very different economic environment as the search for a new equilibrium resumes: financial stress is higher, operational stress as defined below is more extreme and costs have declined further due to more productivity gains, a substantially stronger dollar and sharp declines in other commodity prices. These differences reflect not only a further deterioration in fundamentals, but also the financial markets' decreasing confidence in a quick rebound in prices and a recognition that the rebalancing of supply and demand will likely prove to be far more difficult than what was previously priced into the market. This is all in line with our lower-for-longer view. While we maintain our near-term WTI target of $45/bbl, we want to emphasize that the risks remain substantially skewed to the downside, particularly as we enter the shoulder months this autumn.
Elsewhere, metals have traded relatively range bound overnight with gold flat, remaining near yesterday lows after strong US data pressured prices, while investors are looking ahead to the key risk event in the form of US jobs data on Friday to give more clues as to the timing of a Fed rate hike.
Moving onto today's calendar now. This morning all eyes turn to the UK and the BoE where we'll have a lot of information to get through with the BoE rate decision, meeting minutes and the Inflation Report, while the BoE Carney is also scheduled to speak in what's being billed as 'Super Thursday'. June readings for industrial and manufacturing production are also expected for the UK. We also get more employment data in the US with initial jobless claims and Challenger job cuts data. This will be the last chance for economists to fine tune their payroll forecasts for tomorrow's important number.
In Summary: European shares fall with the oil & gas and basic resources sectors underperforming and retail, insurance outperforming.  oil little changed. German factory orders above expectations, U.K. industrial output below. U.K., Denmark, Norwegian bourses underperform in Europe; Greece, Finland outperform. Yields fall on eurozone 10-yr bonds with Spanish, Portuguese yields down most. U.S. jobless claims, continuing claims, Bloomberg consumer comfort, Challenger job cuts due later.
Market Wrap
S&P 500 futures little changed at 2094.5
Stoxx 600 down 0.4% to 402.4
US 10Yr yield down 1bps to 2.26%
German 10Yr yield down 2bps to 0.73%
MSCI Asia Pacific down 0.3% to 140.7
Gold spot up 0% to $1085.4/oz
Eurostoxx 50 -0.2%, FTSE 100 -0.3%, CAC 40 -0.2%, DAX +0%, IBEX +0.1%, FTSEMIB -0.3%, SMI -0.2%
CF Industries, OCI Said Near Agreement for Fertilizer Merger
Bill Ackman Amasses $5.6b Stake in Oreo Maker Mondelez
Jeff Bezos Sells More Than $500m in Amazon Shares
Euro down 0.17% to $1.0887
Dollar Index up 0.04% to 98
Italian 10Yr yield down 4bps to 1.87%
Spanish 10Yr yield down 5bps to 2.02%
French 10Yr yield down 2bps to 1.04%
S&P GSCI Index down 0.2% to 368.4
Brent Futures down 0% to $49.6/bbl, WTI Futures down 0.5% to $44.9/bbl
LME 3m Copper up 0.5% to $5201.5/MT
LME 3m Nickel up 0.4% to $10905/MT
Wheat futures flat at 502 USd/bu
Bulletin Headline Summary from RanSquawk and Bloomberg
The release of the much better than expected German Factory Orders data, together with somewhat mixed retail PMIs did little to drive the price action across asset classes as market participants await the BoE's 'Super Thursday release
See a preview of today's 'Super Thursday' release here (http://portal.ransquawk.com/headlines/501389)
Going forward, apart from focusing on the releases from the BoE, other data releases include US Challenger Job Cuts, US weekly jobs reports, EIA natural gas storage change data, as well as earnings by Duke Energy and Allergan
Treasury yields little changed ahead of today's job cuts/jobless claims data; 2Y yield touched three-year high yday after July ISM Non-Manufacturing Composite reached highest level in nearly a decade.
Along with its August interest-rate decision, BOE will also release officials' votes and new forecasts, the realization of Carney's push to revamp communications by releasing all elements of the Monetary Policy Committee's decisions at once
The pound strengthened for a fourth day versus the euro as investors braced for an unprecedented slew of data from the BoE that may lend clarity on the timing of its first interest-rate increase in eight years
Unconventional monetary policy is now conventional as asset purchases introduced during the financial crisis and beefed up in the subsequent fight against recession now represent a permanent part of officials' toolkit
ECB officials must be patient for quantitative easing to work its way through the economy and drive a pickup in inflation, Governing Council member Bostjan Jazbec said
China Securities Finance Corp., the government agency mandated to buy stocks to stem a market rout, is seeking access to an additional 2 trillion yuan ($322 billion), said people with knowledge of the matter
While Greece's Alexis Tsipras finds himself running a country in a state of economic emergency, his popularity remains unchallenged as polls show Syriza has as much as twice the support of its nearest rival
Almost a month after Saudi Arabia sold $4 billion of bonds to domestic banks the world still knows next to nothing about the securities as details of the issuance, including the price, the maturity and even the date of the sale remain elusive
$4.4b IG deals priced yesterday, $2.01b high yield. BofAMLCorporate Master Index OAS holds at new YTD wide 158; YTD low 129. High Yield Master II OAS -12 to 529; reached YTD wide 549 last week; YTD low 438
Sovereign 10Y bond yields mixed. Asian, European stocks mostly lower, U.S. equity-index futures mixed. Crude oil lower; copper and gold rise
US Event Calendar
7:30am: Challenger Job Cuts y/y, July (prior 42.7%)
8:30am: Initial Jobless Claims, Aug. 1, est. 272k (prior 267k); Continuing Claims, July 25, est. 2.249m (prior 2.262m)
9:45am: Bloomberg Consumer Comfort, Aug. 2 (prior 40.5)
DB's Jim Reid concludes the overnight recap
Bond market appetite has also shrunk over the last 36 hours after Lockhart's interview on Tuesday night concerning a possible September hike, and after yesterday's highest US non-manufacturing ISM since August 2005 (60.3 vs. 56.2 expected). This overshadowed what was a softish ADP report (185k vs. 215k expected). Had it not been for the ISM we wonder whether there would have been intense debate as to whether the ADP represented 'some' improvements in the jobs data or not. We won't have to wait too long for the main event though as US payrolls comes tomorrow.
The data sparked a fairly choppy session for the Treasury market yesterday. The benchmark 10y eventually closed up 4.9bps higher in yield at the close to 2.271% although that was after yields dipped as low as 2.212% in the moments shortly following the ADP print, only to then march higher post ISM. 2y Treasury yields actually touched an intraday high in yield of 0.756%, the highest since 2011 before closing more or less unchanged at 0.726%. Looking across the Fed Funds contracts, the Dec15 contract was unmoved at 0.330% while the Dec16 (+1.5bps) and Dec17 (+4.0bps) contracts rose slightly to 1.045% and 1.675%. The probability of a September move meanwhile, based on market pricing, has remained steady at 50%. In the FX space the closing level for the Dollar index (+0.05%) masked what was a fairly volatile day as the Greenback ebbed and flowed with the various data, trading in a 60bps range.
Meanwhile in the equity space the S&P 500 (+0.31%), although weakening as the day went on, managed to halt three consecutive days of losses with the tech sector in particular leading the way (supported by a first rise in six days for Apple). That saw the NASDAQ (+0.67%) outperform although the Dow (-0.06%) failed to hold earlier gains, led lower by a disappointing earnings report from Walt Disney. In the commodity space Oil again took another leg lower with WTI (-1.29%) and Brent (-0.80%) both down with the latter at one stage creeping closer to $49 as the market digested the latest US inventory data. Other commodity markets followed suit with Gold (-0.25%), Aluminum (-1.36%) and Copper (-1.09%) all closing down.
Looking at how markets have followed up this morning, with the exception of the Nikkei (+0.78%) it's been a fairly soft start across most of Asia this morning. In China the Shanghai Comp (-0.33%) and Shenzhen (-0.29%) are lower as we go to print, although both have bounced back from an initial 2% drop at the open. Elsewhere the ASX (-0.98%), Hang Seng (-0.52%) and Kospi (-0.60%) have also declined, the former coming after a weaker than expected unemployment rate print out of Australia (6.3% vs. 6.1% expected). Treasury yields have pared back some of yesterdays move higher, with 10y yields -1.1bps at 2.259%. Bond markets in the rest of Asia are largely mixed. Credit markets in Asia and Australia are largely unchanged.
Digging deeper into yesterday's data in the US, there were some notable improvements in the components of yesterdays non-manufacturing ISM print. Of particular interest was the new orders measure which rose to 63.8 (from 58.3) and also at a decade high, business activity which moved to 64.9 (from 61.5) and the highest since 2004 while the employment component, in stark contrast to the softish ADP print, moved 6.9pts higher to 59.6 – the biggest one-month increase in the 18-year history of the report. Elsewhere, the separate final services PMI reading was revised up 0.5pts to 55.7, helping to push the composite print up (+0.5pts to 55.7) for the month. Meanwhile the trade deficit for June widened $2.9bn to $43.8bn during the month and slightly above market ($43bn expected). Following on from Lockhart's comments on Tuesday, Fed Governor Powell said that the 'time is coming' to raise rates but that he has not yet decided on a timeframe and instead is 'going to be very, very focused on the data'.
It wasn't just the Treasury market where we saw yields move higher yesterday. Over in Europe, supported by both the US data and European PMI numbers as well as a delayed reaction to Lockhart's comments the previous evening, yields surged higher with 10y Bund yields closing up 11.5bps at 0.752%. Similar maturity yields in France (+10.4bps) and Netherlands (+11.3bps) also rose while in the periphery we saw Italy, Spain and Portugal yields move +14.3bps, +13.0bps and +11.5bps higher respectively. Equity markets were well supported meanwhile with the Stoxx 600 closing +1.30% and the DAX (+1.57%) and CAC (+1.65%) also having stronger sessions.
Looking at the data-flow in the region, DB's Peter Sidorov suggested that the final July PMIs confirmed the broadly stable data tone that we have seen recently for the Euro area. The composite Euro area PMI was revised up 0.2pts at the final revision to 53.9 (down slightly from the 54.2 in June) on the back of a 0.2pt upward revision to the services reading to 54.0. Spain was the main surprise in the services reading (+3.5pts to 59.7) while Germany and France saw little change on their initial flash reading. Italy's services print (-1pt to 52.0) was the notable downward revision. Peter notes that the message for inflation is improving with the latest PMI numbers, with the output price index reaching its highest level since March 2012. In the UK meanwhile we saw the services print revised down 0.6pts to 57.4, a drop of nearly a point from June. Elsewhere we saw a softer than expected Euro area retail sales reading for June (-0.6% mom vs. -0.2% expected).
Staying in Europe, yesterday we got the latest polls data out of Spain which showed a boost for Spanish PM Rajoy's ruling People's Party and declining support for the radical Podemos party. The poll, run by CIS, showed support for the People's Party at 28.2%, up nearly 3% from the last poll in April and ahead of the opposition Socialists on 24.9%. On the other side, Podemos support fell to 15.7%, a fall of nearly a point from April and nearly 8 points from the January peak. The political situation in Spain is clearly still far from certain with still a reasonable degree of fragmentation, but the latest polls will likely be seen as encouraging in the sense of declining support for the more radical Podemos party in light of recent events in Greece.
Before we take a look at the day ahead, refreshing our earnings beats/miss monitor again and with 426 S&P 500 companies now having reported, there was no change yesterday to our earnings (74%) and sales (49%) beats numbers. In Europe there was no change either at 64% and 66% respectively.
Moving onto today's calendar now. German factory orders data for June will kick proceedings off this morning before all eyes turn to the UK and the BoE where we'll have a lot of information to get through with the BoE rate decision, meeting minutes and the Inflation Report, while the BoE Carney is also scheduled to speak in what's being billed as 'Super Thursday'. June readings for industrial and manufacturing production are also expected for the UK. We also get more employment data in the US this afternoon with initial jobless claims and Challenger job cuts data. This will be the last chance for economists to fine tune their payroll forecasts for tomorrow's important number.