2015 was a bad year for TWTR stocks, but the bloodshed seems to have stopped in 2016. As we can see in the daily chart, TWTR started to consolidate after it found support at 13.90 in February.
TWTR Daily Chart 8/15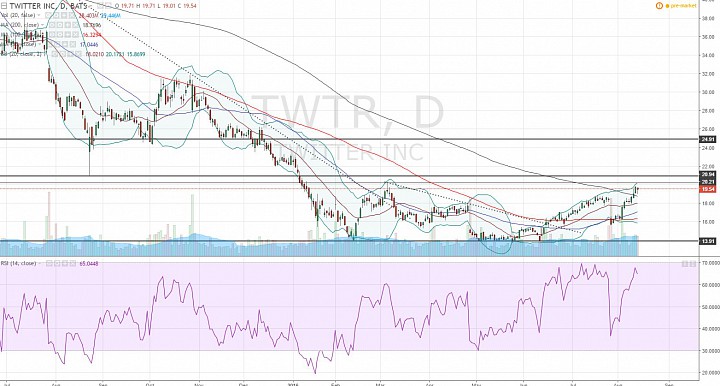 (click to enlarge)
Consolidation range:
- As we can see in the daily chart, TWTR found support at 13.90 again in May and again in June. 
- It seems like the market weathered the bearish continuation scenario, and thus  keeps TWTR in a consolidation phase. 
- In this consolidation phase, the 20-20.20 area is a key resistance pivot. Then around 20.95, there is a previous support pivot that might also offer some resistance now that price has broken below it.
- Essentially, TWTR is approaching an area where we can expect some selling. The 20.00 handle is also a psychological level, where we can expect some orders to have been placed.
Anticipation:
- From the resistance I would anticipate something like a 10% retreat, or at most 15%. 
- The reason I wouldn't expect price to fall back to 13.90 is to hedge against the prospect that a bullish trend is brewing from this consolidation phase. 
- I think 16.00 would be an aggressive outlook. The middle of the range, around 17 (15% below 20) would be a more viable target. 

Breakout scenario: 
- Now, if price breaks above 20.25, a bullish trend might be ahead. 
- There could be some more consolidation after the breakout, and a retreat back towards 17 is still possible. But a hold above 17.00 would confirm the breakout by showing respect to the broken range as support. 
- The 24.90-25 level could be a first target, with the 28.00 pivot and the 30.00 handle as more aggressive targets for the rest of year and going into 2017. 
It will be interesting to see how the market reacts as Twitter attacks the range resistance today with some news-boost.
NEW YORK (TheStreet) -- Shares of Twitter (TWTR) were up in pre-market trading on Monday as the social network enters discussions with Apple (AAPL) to launch an app on Apple TV that could allow millions of Apple TV users to watchNational Football League games that Twitter will stream, sources told the New York Times. (Full article on TheStreet.com)