Noodles & Co Go 5% More Limp & Soggy by 2/26

20 february 2015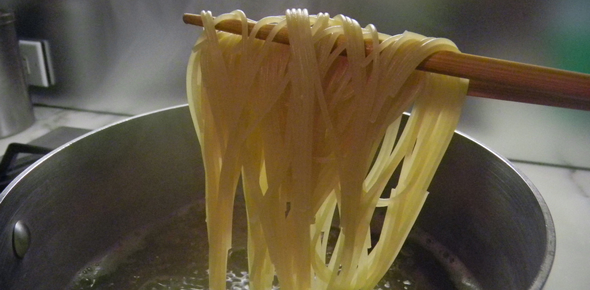 When noodles overcook, you wind up in a sticky situation. (PIC: drjameswellborn.com)
Like your stocks al dente? You might have to look elsewhere if you have Noodles & Company [NASDAQ: NDLS] in your portfolio. The company has slid down almost 30% at the time of this writing since opening this morning. That's over eight full points of decline. This adds up to (drum roll please) .  .  .  the worst day on record for the stock. Ouch, man. Easy with the boiling oil!
The company has been experiencing a mad sell off as disinterested holders are dumping their holdings as it's very high valuation doesn't have a snowball's chance at a BBQ to sustain itself versus the tepid numbers reported Thursday during their earnings report. Quoting an only mildly sardonic original analysis on Yahoo Finance posted a bit ago:
Were one to consider the numbers Noodles reported Thursday afternoon on their own, it perhaps wouldn't seem so bad. Fourth-quarter revenue was up 18.7% to $108.5 million. Same-store sales, system-wide, rose 1.3%. Earnings before items climbed 9.2%, and on a per-share basis, Noodles earned 13 cents a share. However, the world of earnings doesn't work well with "not so bad." Companies have investor and analyst estimates to meet, and Noodles missed on all those.
So what do you all say? Is another 5% in decline a given by close of business on the 25th versus today's closing number? Let's see who among you has a well exercised third eye... 
Voting is over
Waiting for


the right answer