Mallinckrodt plc MNK is set to report second-quarter fiscal 2016 results on May 3.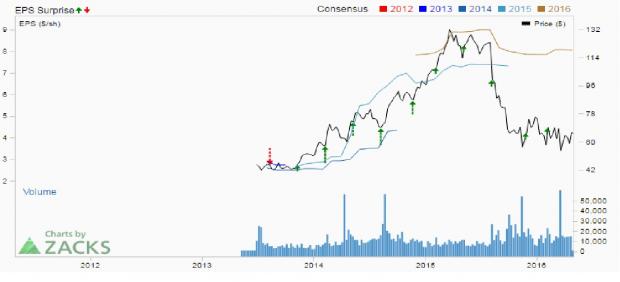 The company's track record has been impressive so far. It has beaten estimates in all of the last four quarters, with a positive average earnings surprise of 12.2%. Let's see how things are shaping up for this announcement.
Factors Influencing this Quarter
Concurrent with its first-quarter earnings call, Mallinckrodt upped its 2016 outlook for adjusted earnings per share to the $7.85–$8.30 band from the previous projection of $7.70–$8.20.
Acthar is projected to grow around the lower end of the mid-single to low double-digit range. On the reimbursement front, the company is working to increase the commercial coverage of Acthar with major payers, which, in turn, will boost sales. The commercial coverage for Acthar currently stands at about a third of the total eligible patient population in the U.S., as per the contract with key payers.
Growth rate for Inomax will be higher for fiscal 2016 on a year-over-year basis.
Meanwhile, Mallinckrodt has integrated Therakos into its hospital franchise, and expects significant commercial and development synergies from the transaction. We note that the company acquired Therakos Inc. in Sep 2015 in a bid to broaden its footprint in hospitals. This is the first full quarter, wherein Therakos will contribute to performance. The company expects historical rates of high single-digit revenue growth to continue in the near term, as the integration moves ahead.
Ofirmev volumes had experienced a trough in May 2015, but later rebounded. Mallinckrodt expects long-term annual net sales of at least $500 million from Ofirmev. The company signed a few contracts in fiscal 2015 and hence does not expect negative pricing impact on growth rates in fiscal 2016. In fact, Ofirmev is projected to rebound to year-over-year revenue growth in the second half of fiscal 2016 driven by penetration into existing accounts, along with new account gains and the recapture of volume and formulary status in other key accounts.
Moreover, the acquisition of hemostasis drugs – Recothram Thrombin topical (recombinant), PreveLeak, and Raplixa (fibrin sealant) – from The Medicines Co. MDCO will diversify Mallinckrodt's pain management franchise and strengthen its growing hospital portfolio. The company expects to launch PreveLeak and Raplixa in the second half of 2016.
We also expect investor focus on pipeline candidate, terlipressin injection, which being evaluated for the treatment of Hepato-Renal Syndrome Type 1 (HRS 1). The company currently plans to initiate the study later this year.
However, the company expects seasonality to continue in fiscal 2016, which would hurt gross profit.
What Our Model Indicates
Our proven model does not conclusively show that Mallinckrodt is likely to beat earnings this quarter. That is because a stock needs to have both a positive Earnings ESP and a Zacks Rank #1 (Strong Buy), #2 (Buy) or #3 (Hold) to be able to beat estimates. However, that is not the case here, as you will see below.
Zacks ESP: The Earnings ESP, which represents the difference between the Most Accurate estimate and the Zacks Consensus Estimate, is -1.74%. This is because the Most Accurate estimate currently stands at $1.69, while the Zacks Consensus Estimate is pegged higher at $1.72.
Zacks Rank: Mallinckrodt currently has a Zacks Rank #4 (Sell). As it is, we caution against stocks with Zacks Ranks #4 or #5 (Sell-rated stocks) going into the earnings announcement, especially when the company is seeing a negative estimate revision momentum.
Stocks That Warrants a Look
Here are a couple of health care stocks that you may want to consider instead, as our model shows that both have the right combination of elements to post an earnings beat this quarter:
The Earnings ESP for Sanofi SNY is +4.17% and it carries a Zacks Rank #2. The company is scheduled to release first-quarter results on Apr 29.
AstraZeneca PLC AZN has an Earnings ESP of +5.00% and a Zacks Rank #3. The company is set to report first-quarter earnings results on Apr 29.
Want the latest recommendations from Zacks Investment Research? Today, you can download 7 Best Stocks for the Next 30 Days. http://woas.zacks.com/adv/7stock_report.pdf?ADID=ZACKS_PFP_7... blog">Click to get this free report >>
Want the latest recommendations from Zacks Investment Research? Today, you can download 7 Best Stocks for the Next 30 Days.
Click to get this free report
SANOFI-AVENTIS (SNY): Free Stock Analysis Report
ASTRAZENECA PLC (AZN): Free Stock Analysis Report
MEDICINES CO (MDCO): Free Stock Analysis Report
MALLINCKRODT PL (MNK): Free Stock Analysis Report
To read this article on Zacks.com click here.