Costco (COST) shares has peaked around 183 in May and June of 2017, and has since retreated, closing last week just above 156. While price did rebound from 150 this week, I think we should anticipate some further downside until a common support area around 140.

Costcoc (COST) Weekly Chart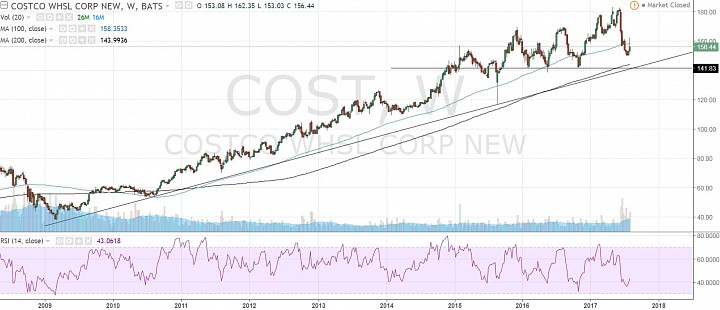 (click to enlarge)
Long-term Uptrend:
- The weekly chart reveals a long-term uptrend.
- It got a bit choppy especially in 2016, but COST made new highs this year after being flat in 2016.
- Note that this uptrend is intact, alghouth the momentum has sputtered a bit in 2016-2017.
- Choppiness notwithstanding, COST is still bullish.
Support and Different Scenarios:
- Because the long-term bullish trend is still intact, we should anticipate support above that common support around 141.
- A break below 140 will make it hard to continue believing in the uptrend. In this scenario, COST will become neutral-bearish.
- But if price holds above 140, especially if its above 142, then the prevailing uptrend would still be intact, and COST would be at least neutral-bullish, if not simply bullish. In this scenario, we can anticipate a return to the 180 mark.
- If price brushes with the common support at 140, then rebounds, we can look at this as a neutral market. The 180 target would be considered very aggressive in this scenario, while a common resistance around 170 would be more viable.