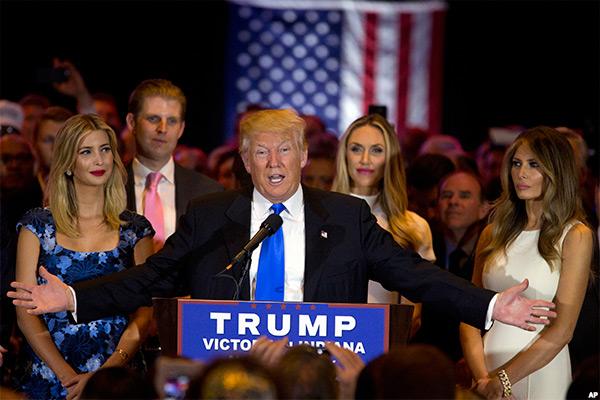 Donald Trump could end up making a dent in Macy's (M - Get Report) sales after all -- as could Hillary Clinton, Bernie Sanders and the presidential race general. Because according to one report, retail sales have tended to slow in recent election cycles.
Retail sales growth has decelerated three of the past four election years compared to the previous year, according to a recent note from Deutsche Bank. Of course, in some cases there have been other forces at work -- particularly 2008 vs. 2007 and the financial crisis -- but the numbers still indicate there might be some correlation.
"The data shows that there may be at least some impact on sales growth from elections, either due to candidates' stoking consumer concerns or from the public staying at home to watch the drama unfold on TV," writes analyst Mike Baker, referring to the "CNN Effect," a theory that explains the impact of the 24-hour news cycle on the political and economic climate. "This is just one more factor to consider as we assess the potential for a rebound this year."
Given the doomsday tone employed by many of the candidates this election cycle, on top of the overzealous attention given to Trump by the media, if there were ever a year to test the theory, it would be this one.
Must Read: If Donald Trump Was President, Here's What Would Happen to the U.S. Economy
That being said, 2015 wasn't great for most retailers, and it's not exactly looking like 2016 will be much better, even without the election.
Retail sales dropped 0.1% in December, making 2015 the slowest year for gains since 2009. According to preliminary numbers from the National Retail Federation, annual retail sales grew by 3.1% in 2015...
More