Pharmaceutical stock Mallinckrodt PLC  is tumbling on Wednesday after short-seller Citron Research released a new note valuing the stock at $20 and alleging the company "has committed FRAUD by lying to the investing public about the company's dependence on the Medicare system."
This isn't the first time that Citron has attacked the controversial drug company. Citron's Andrew Left said Mallinckrodt's practices were worse than those of Valeant Pharmaceuticals Intl Inc  roughly one year ago.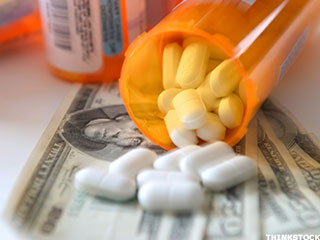 Following the new report, Mizuho analyst Irina Koffler stepped up to defend Mallinckrodt. In her note, Koffler says that Citron is actually the one misleading investors.
"While a significant number of Acthar-treated patients may be covered by Medicare/Medicaid, we think that the cost of the system is heavily rebated and inaccurately reflected in the dashboards," Koffler explains.
Koffler points out that the dashboards exclude manufacture rebates and price concessions, suggesting inflated cost estimates.
In addition, she notes that Acthar prices rose only about 5 percent per unit in 2015 and 0 percent so far in 2016, much less than the prices of number of other generic drugs.
Koffler believes that investors should take advantage of the selloff and snatch up the Buy-rated stock on the dip. Mizuho maintains an $89 price target for the stock.
Shares traded recently at $61.53, down 9.2 percent on the day.
Latest Ratings for MNK
Date
Firm
Action
From
To
Nov 2016
Raymond James
Initiates Coverage On
Outperform
Aug 2016
Deutsche Bank
Maintains
Buy
Aug 2016
Barclays
Maintains
Overweight
View More Analyst Ratings for MNK
View the Latest Analyst Ratings