The EUR/AUD consolidated in May and started to rally at the end of the month, breaking the consolidation by the start of June. However, as we can see in the 4H chart, the rally looks to be stalling around 1.4755. 

EUR/AUD 4H Chart 6/10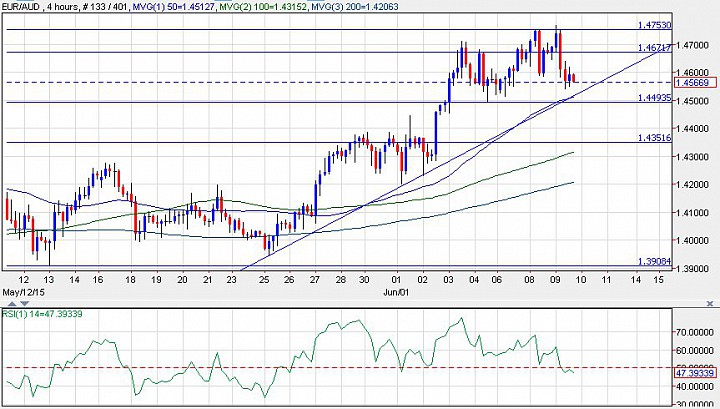 (click to enlarge)

Even though the rally is stalling, the EUR?GBP is still bullish as it trades above the 200-, 100- and 50-period SMAs in the 4H chart and while the RSI holds above 40 after pushing above 70. Now, if price does break below 1.4490, EUR/AUD would have completed a price top. The support.resistance pivot ta 1.42 would be in sight, although the May consolidation resistance at 1.4350 might also act as a short-term support.

Watch out for the clear-out/bullish-continuation scenario, which would be the case if pice breaks 1.4490 but holds above 1.44 and returns back to the uptrend. In this scenario, failure to climb back 1.46 would be needed to keep the outlook bearish. Otherwise, pressure would return to the 1.4755 high with risk of extending to 1.48.