Today's story is going to be about one rising star pharma company, Mallinckrodt plc, alleged in abusing pharmaceutical reimbursement system (here and after - PRS) which we suppose to be one of the most interesting price drivers nowadays for the stocks of this industry.
The Company
Mallinckrodt Public Limited Company develops, manufactures, markets, and distributes specialty pharmaceutical products and medical imaging agents worldwide. The company operates through two segments, Specialty Pharmaceuticals and Global Medical Imaging.
The Specialty Pharmaceuticals segment provides Acthar; Ofirmev and Xartemis XR; EXALGO; and GABLOFEN. It also offers generics and active pharmaceutical ingredients (API).
The Global Medical Imaging segment provides contrast media and delivery systems for diagnostic imaging applications under the Optiray and Optimark brand names.
/ Source: Yahoo Finance /
The company has been active in M&A activity over the last years, considering its acquisitions of Cadence, Questcor, Ikaria,  and Therakos.
<!== INSTRUMENT %% %10080% ==!>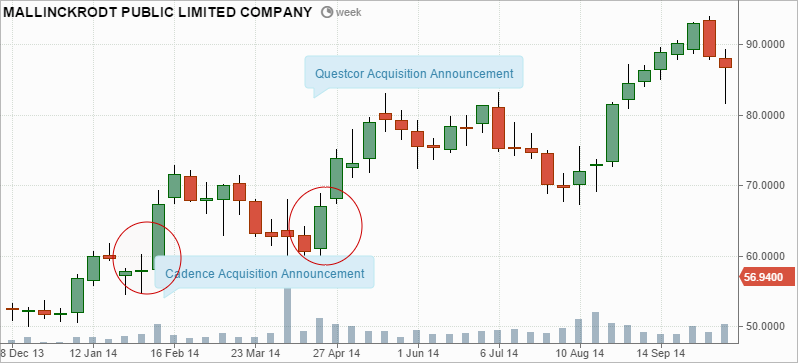 It can be seen that the first three deals were positively interpreted by the market, while the last one was unable to overcome the downside momentum started with the company's announcement of HP Achtar Gel lowered sales expectations.
<!== INSTRUMENT %% %10080% ==!>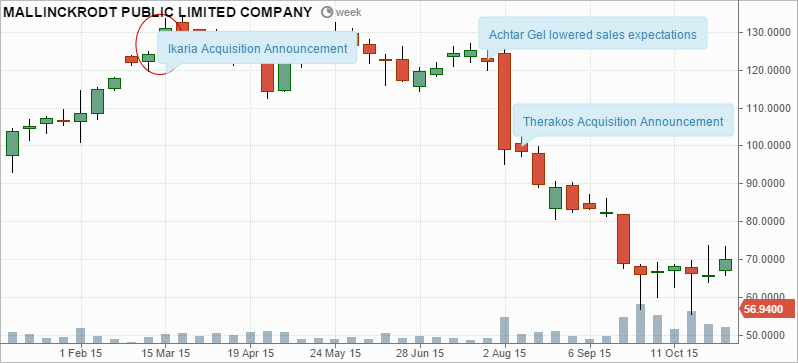 The point is that Mallinckrodt is becoming an efficiently diversified pharma company with its wide range of both prospective specialty pharmaceuticals and moneymaking generics. These facts can be considered as a part of a basis for future earnings growth expectations.  
The Peers
Mallinckrodt company tends to look lucrative in a comparison with its senior and renowned сompetitors as well.
| | | | | |
| --- | --- | --- | --- | --- |
| | Mallinckrodt | Valeant | Allergan | Merck |
| Intangible Assets 2013/2014 , $B | 0.95 / 9.51 | 24.01 / 23.86 | 8.23 / 19.18 | 24.75 / 23.72 |
| Debt / EV | 47.66 | 55.75 | 30.09 | 19.96 |
| Trailing P/E | 7.79 | 43.31 | 27.54 | 14.07 |
| Price/Sales (ttm) | 1.78 | 2.54 | 6.03 | 3.73 |
The company has been being kind of a dark horse with its hidden potential, but at the same time its financial decisions have risen some tricky questions, including ones about Mallinckrodt's leverage and earning management. Still, even attractive financials could not insure the company agains the recent drop.
The Case (here Citron Research comes...)
What was the latest buzz about this company? Right, the allegations in abusing PRS.
It all started with famous firm Citron Research (http://www.citronresearch.com, these guys are behind recent Valeant prices collapse) tweeting on Nov. 9: "At these prices $MNK has signif more downside than $VRX – far worse offender of the reimb sys – more to follow. VRX can't live in a vacuum". Shares of Mallinckrodt fell as much as 25 percent and trading was halted multiple times due to volatility after this sole tweet. It is hard to deeply understand all the subtleties of PRS, but if there is a potential for future lawsuits against Mallinckrodt...
Well, Citron has been uncovering convincing enough arguments for the stocks of the companies it analyzed to go deep down. Needless to say, these guys have something on a company before hinting their ideas publicly.
So just a couple days later, on Nov. 11 Levi & Korsinsky, LLP announced that it had commenced an investigation of Mallinckrodt Public Limited Company concerning possible violations of federal securities laws by the Company and/or certain of its officers and directors. / Source: Business Wire /
Shall we just wait and see what's next?
The Prospects
Given the selloff in the stock, it now has a forward price-to-earnings ratio of only 7.8, which makes it look cheap. Meanwhile, analysts on average are forecasting 20% growth per year for the next five years. / Source: TheStreet / All things considered, Mallinckrodt represents a promising opportunity in the long-run. It can be expected that even recent allegations will be forgotten in the face of Mallinckrodt's potential. 
But what really does make sense for now is to wait until detailed analysis by Citron Research is published. Depending on its outcomes we will decide whether it is too early to go long Mallinckrodt or not. And maybe it's even better to go short for a while.