Summary
Chevron has made an impressive comeback in the past few weeks, driven by the recovery in crude oil prices, and I believe that the rise will continue.
Chevron's bottom line is highly-sensitive to oil prices, which is a good thing as a 20% fall in oil infrastructure investment this year and higher demand will boost pricing.
A wide gap is expected between base production and demand for oil liquids across the globe, and Chevron is trying to take advantage of this by increasing LNG production.
Chevron's debt-equity ratio is low, while its cash position is the strongest in the industry, which means that it can continue investing in its projects and tap the end-market opportunity.
Given the sensitivity of Chevron's (NYSE:CVX) finances to crude oil prices, it is not surprising to see that the stock has gained over 22% since August 26. This rally can be attributed to the fact that crude oil has recovered from a low of approximately $38 per barrel WTI on August 24 to around $48 per barrel now, rising to the tune of 26%.
Now, Chevron has been one of the worst affected big oil companies in the current oil market scenario. Its profit has dropped at a far greater pace than that of rivals Exxon Mobil (NYSE:XOM) and Shell , as shown in the chart below: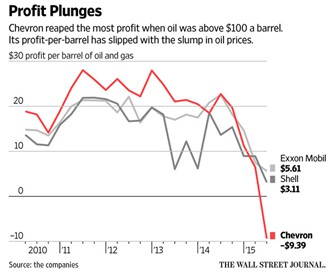 But, as also seen above, Chevron was the most profitable company of the three when crude oil prices were strong. This is a key reason why I think Chevron will be able to sustain its momentum going forward as oil prices could continue rising going forward.
Better times ahead for oil prices, and Chevron
It looks like OPEC has finally woken up to the fact that it needs to take proactive steps in order to provide some stability to oil prices. Earlier, the oil cartel was bent on keeping its market share intact at any cost, but recent statements from OPEC chief Abdalla Salem el-Badri clearly indicate that it is feeling the heat.
In fact, OPEC is now ready to...
More