Bitcoin has been flat in 2015 after a sharp bearish correction in 2014. The totality of price action since inception reflects the initial hype and the subsequent capitulation. Now that we are done with those 2 phases, bitcoin has gone into a neutral mode this year as we can see in the daily chart. 

BTUCSD Daily chart 10/25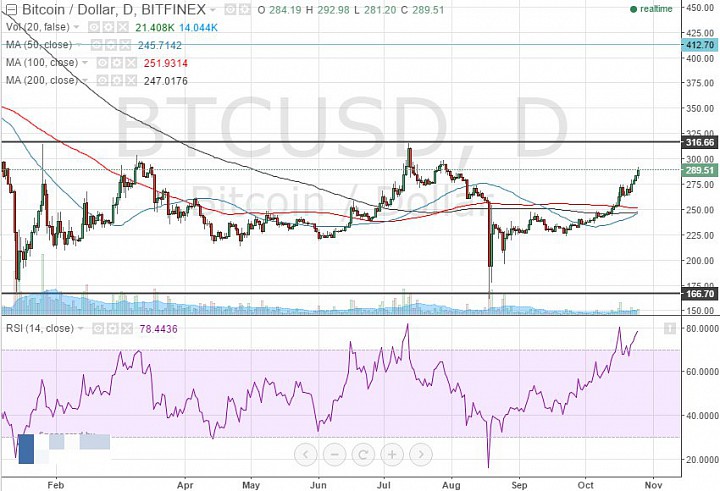 (click to enlarge)

The moving averages have flattened out. The RSI has been oscillating without signs of directional momentum. 

In the short medium-term, price has been bullish since late August when it essentially tested the previous low on the year. After cracking that low briefly, price sprung up, stalled, and accelerated again in October. As we wind down the month, price is approaching 300, above which we have the 2015 consolidation range resistance. 

We can see resistance going from 300 up to about 320. Watch out for resistance here. If there is resistance, we can have a bearish outlook in the short-term, but we should not expect price to fall back down to the 165-175 lows again. The bearish outlook should instead be limited to the 250 area, where the cluster of moving averages reside. The most aggressive outlook should be down to 220-225, a common support area within the 2015-consolidation.

A break above 320 on the other hand opens up a bullish outlook, though in the short-term, we still might have to deal with a pullback with 250 in sight .