Facebook Inc. FB has once again slashed the price of Oculus Rift but the offer is limited to the summer season. The Rift headset, along with a pair of Touch controllers, will be bundled for $399 for summer.
In March, Facebook had first slashed the price of the headset to $499 from $599 originally. Price of Touch controllers was trimmed to $100 from the original $200.
Oculus was founded by Palmer Luckey and Brendan Iribe in 2012 and acquired by Facebook in 2014. Facebook's ambitious AR/VR plans are being fueled by Oculus. The company's CEO, Mark Zuckerberg, said that Facebook will spend over $3 billion over the next 10 years.
However, in February, Zuckerberg was quoted saying that the virtual reality efforts aren't profitable now. However, he asked the investor community to be patient as the investments in VR would take some time to generate profits.
For some time now, Oculus has been weighed down by numerous problems. Rift, despite being one of the most anticipated products, polarized critics and general masses. Its hefty price tag was a dampener. In addition, the expensive $599 headset (with Touch controllers for another $200) requires a powerful $1000 PC to operate.
This makes the device affordable to only a handful of customers and is primarily targeted toward hardcore gamers. To change that and bring more consumers under its fold, Facebook is rethinking its pricing strategy, taking a leaf from Sony's SNE success story.
Facebook, Inc. Price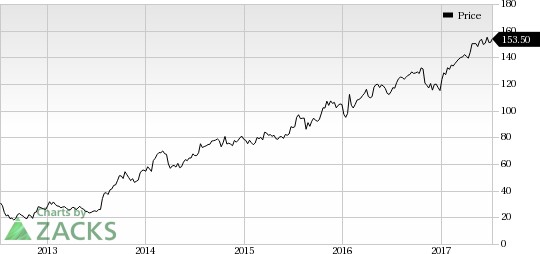 Sony has seen terrific success with its virtual reality headgear, PS4 headset. Compatibility with a PS4 console and a relatively low price tag of $399 are the major drivers of its feat. In June, the consumer electronics giant announced that it has sold over 60.4 million units of the console and over 1 million headsets.
Earlier this year, Facebook was slapped with a $2 billion lawsuit filed against Oculus by video game company, ZeniMax. Per media reports, ZeniMax claimed that Oculus "stole" its intellectual property to boost its own VR research. Though Facebook denied all allegations, it lost the lawsuit and was directed by the court to shell out $500 million in damages to ZeniMax.
Also, in Mar 2017, one of the founders, Palmer Luckey, quit Oculus following a controversy during the U.S. presidential election in 2016. He has remained mostly away from media ever since reports surfaced that he was financing a group that created anti-Hillary Clinton memes for the web.
To revitalize its VR efforts, last year in December, Facebook split Oculus into two separate units – one focusing on developing VR for mobiles, the other one focusing on PCs. Iribe will head VR for the PC unit while ex-Amazon.com Inc AMZN executive, Jon Thomason, will lead the Mobile VR division.
A few days back, Facebook roped in ex-Xiaomi vice president, Hugo Barra, to spearhead the company's VR initiatives as well as the Oculus unit.
At present, Facebook carries a Zacks Rank #3 (Hold). In the past one year, Facebook's shares have generated returns of 30.16% compared with the Zacks Internet Services industry's gain of 19.79%.

Stock to Consider
A better-ranked stock in the broader tech space is Cypress Semiconductor Corporation CY, sporting a Zacks Rank #1 (Strong Buy). You can see the complete list of today's Zacks #1 Rank stocks here.
Cypress has delivered an average positive earnings surprise of 83.30% in the trailing four quarters.
More Stock News: 8 Companies Verge on Apple-Like Run
Did you miss Apple's 9X stock explosion after they launched their iPhone in 2007? Now 2017 looks to be a pivotal year to get in on another emerging technology expected to rock the market. Demand could soar from almost nothing to $42 billion by 2025. Reports suggest it could save 10 million lives per decade which could in turn save $200 billion in U.S. healthcare costs.
A bonus Zacks Special Report names this breakthrough and the 8 best stocks to exploit it. Like Apple in 2007, these companies are already strong and coiling for potential mega-gains. Click to see them right now >>
Want the latest recommendations from Zacks Investment Research? Today, you can download 7 Best Stocks for the Next 30 Days.
Click to get this free report
Amazon.com, Inc. (AMZN): Free Stock Analysis Report
Facebook, Inc. (FB): Free Stock Analysis Report
Cypress Semiconductor Corporation (CY): Free Stock Analysis Report
Sony Corp Ord (SNE): Free Stock Analysis Report
To read this article on Zacks.com click here.
Zacks Investment Research