Following the surge in overnight screams against a rate hike, which in just the past 24 hours has added those of the World Bank's chief economist, Paul Krugman, and Larry Summers (for the second time), all eyes were focused on Janet Yellen's favoriote Jobs indicator - the JOLTS report, and especially the total nonfarm Job Openings. And here a big problem appeared because while the Fed is now facing tremendous pressure from the outside not to hike in September, the JOLTS report not only gave a green light, but literally shrieked a rate hike in September is inevitable.
The reason: the Job Openings number soared from 5.323MM toi 5.753MM, smashing expectations of a drop to 5.3MM. In fact, the monthly increase in openings of 430,000 was the highest stretching all the way back to April 2010, and was the fourth highest monthly jump in the history of the series!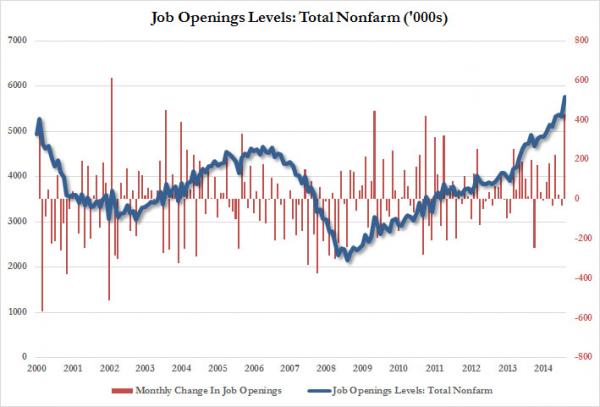 To be sure, a more than cursory scan at the components of the jump reveals it was all quantity, and zero quality: the biggest increase among "job wanted" poasters was for low-paying jobs (just in case anyone is still confused why there are no wage hikes), including retail trade and leisure and hospitality, but to the Fed that was largely irrelevant.
What does matter to Yellen is that the ratio of number of unemployed people per job opening is now back to pre-crisis levels. To wit: "when the most recent recession began (December 2007), the number of unemployed persons per job opening was 1.8. The ratio peaked at 6.8 unemployed persons per job opening in July 2009 and has trended downward since. The ratio was 1.4 in July 2015."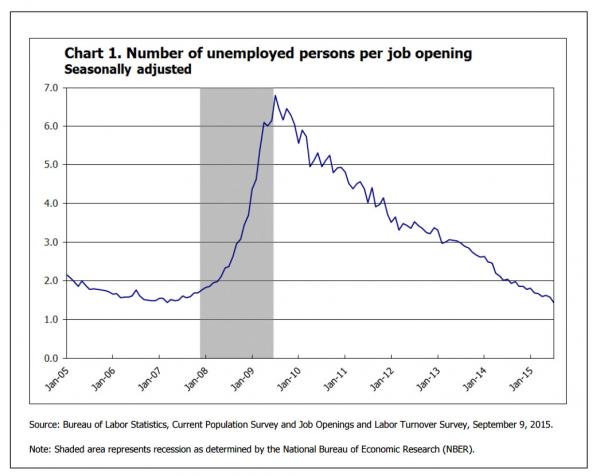 For Yellen, this will be evidence that virtually all the slack in the labor market has been removed.
Which means the Fed's boxed-in problem just got even bigger: will Yellen defer the rate hike because of outside influence (and the market tantrum of course), or will the Fed not lose any more credibility, and rely on the data which as shown above, is now shrieking a rate hike is long overdue. Find out next week.