Gilead Sciences, Inc. GILD just released its third-quarter 2017 financial results, posting earnings of $2.06 per share and revenues of $6.51 billion. Currently, GILD is a Zacks Rank #3 (Hold) and is down over 2.40% to $76 per share in after-hours trading shortly after its earnings report was released.
GILD:
Missed earnings estimates. The company posted earnings of $2.06 per share, missing the Zacks Consensus Estimate of $2.09 per share.
Beat revenue estimates. The company saw revenue figures of $6.51 billion, beating our consensus estimate of $6.33 billion.
Gilead Sciences revenues fell over 13% from $7.50 billion in the year-ago period. On top of that, the company's earnings tanked over 17% after posting earnings of $2.49 per share in its third-quarter of 2016.
The company's third-quarter product sales fell from $7.4 billion to $6.4 billion.
Here's a graph that looks at GILD's Price, Consensus and EPS Surprise history:
Gilead Sciences, Inc. Price, Consensus and EPS Surprise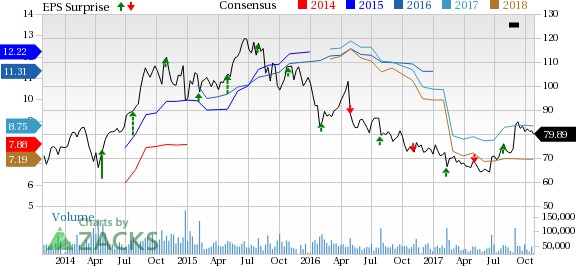 Gilead Sciences, Inc. Price, Consensus and EPS Surprise | Gilead Sciences, Inc. Quote
Gilead Sciences, Inc. is an independent biopharmaceutical company that seeks to provide accelerated solutions for patients and the people who care for them. They have a broad-based focus on developing and marketing drugs to treat patients with infectious diseases, including viral infections, fungal infections and bacterial infections, and a specialized focus on cancer. They have expertise in liposomal drug delivery technology, a technology that the company uses to develop drugs that are safer, easier for patients to tolerate and more effective.
Check back later for our full analysis on GILD's earnings report!
Looking for Stocks with Skyrocketing Upside?

Zacks has just released a Special Report on the booming investment opportunities of legal marijuana.

Ignited by new referendums and legislation, this industry is expected to blast from an already robust $6.7 billion to $20.2 billion in 2021. Early investors stand to make a killing, but you have to be ready to act and know just where to look. See the pot trades we're targeting>>
Want the latest recommendations from Zacks Investment Research? Today, you can download 7 Best Stocks for the Next 30 Days.
Click to get this free report
Gilead Sciences, Inc. (GILD): Free Stock Analysis Report
To read this article on Zacks.com click here.
Zacks Investment Research