Following today's mauiling of the short end, few were expecting a strong 2 Year auction. They did not get it.
As widely expected, the yield of 0.824% jumped from 0.699% a month ago to a level seen in April of 2010. The good news: it wasn't as bad as it could have been: the When Issued was trading at 0.825% at 1pm.
The Bid to Cover was ugly too, because at 3.013 this was the lowest implied demand for 2Y paper since May of 2010.
The internals were likewise ugly, with Directs dropping to 11.0% from 13.3% a month ago, Indirects dropped to 40.05% from 43.2%, the lowest since April while Dealers ended up holding 48.9% of the auction - this was the highest since December.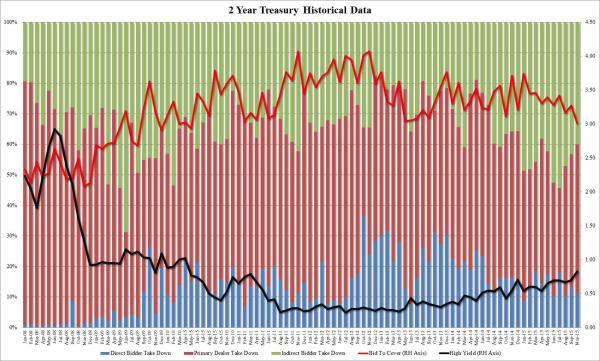 Why is April/May 2010 memorable? Because that is when Greece suffered its first bailout and repriced the entire bond curve tighter (it was 1.02% in April, 0.77% in May and has yet to see 1% since), and unleashing a global deflationary tsunami when first the Fed launched QE2 and then gradually every other central bank joined the bandwagon.
So we wonder: with short-end rates suddenly surging (because the Fed wants to telegraph just how strong the economy is), are we about to witness another Greek "black swan" to reprice the bond market yet again?