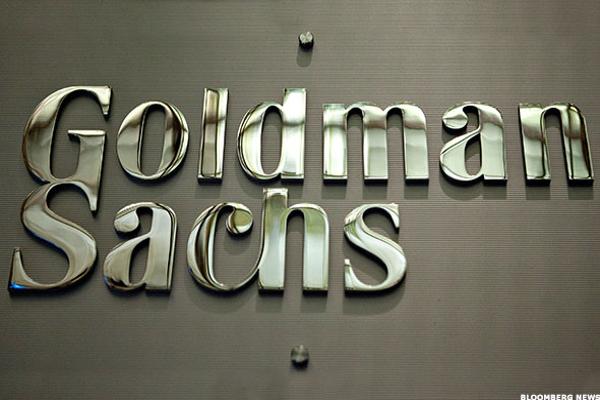 NEW YORK (TheStreet) -- Goldman Sachs Group (GS - Get Report) just released a new report with stocks that have the most upside potential. The investment bank believes "the U.S. economy will avoid recession in 2016."
The S&P 500 fell 11% since its record high reached last May, however, Goldman Sachs analyst David Kostin predicts a rebound is more likely than not, much like in 1998. The trigger for the stock correction is China's faltering economic growth. Support for a market bounce back will be provided by the uninterrupted economic growth in the U.S.
Kostin suggests that companies that derive most of their revenues in the U.S. will do well. He also suggests that after a stock market correction such as the current market situation, investors should over-weigh financial and information technology stocks, and under-weigh energy, materials, utilities and consumer staples.
STOCKS TO BUY: TheStreet Quant Ratings has identified a handful of stocks with serious upside potential in the next 12-months. Learn more.
Taking into account the 12-month stock price targets placed on them by Goldman analysts, here are 25 stocks with the most upside potential, according to the note. (Target prices were obtained from Bloomberg.) TheStreet paired Goldman's picks with ratings from TheStreet Ratings.
TheStreet Ratings, TheStreet's proprietary ratings tool, projects a stock's total return potential over a 12-month period including both price appreciation and dividends. Based on 32 major data points, TheStreet Ratings uses a quantitative approach to rating over 4,300 stocks to predict return potential for the next year. The model is both objective, using elements such as volatility of past operating revenues, financial strength, and company cash flows, and subjective, including expected equities market returns, future interest rates, implied industry outlook and forecasted company earnings.
Buying an S&P 500 stock that TheStreet Ratings rated a buy yielded a 16.56% return in 2014 beating the S&P 500 Total Return Index by 304 basis points. Buying a Russell 2000 stock that TheStreet Ratings rated a buy yielded a 9.5% return in 2014, beating the Russell 2000 index, including dividends reinvested, by 460 basis points last year.
Note: Year-to-date returns are based on closing prices on August 25, 2015 at 1:00pm.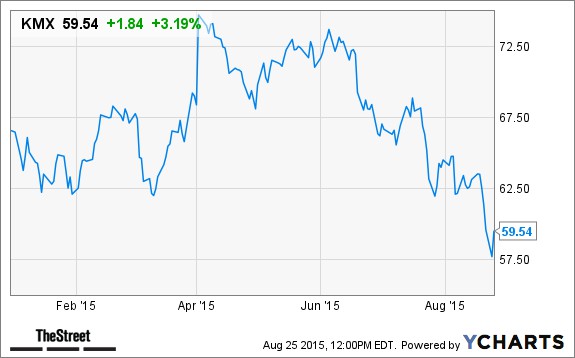 KMX data by YCharts
25. CarMax...
More