With Agilent Technologies' (A) stock shooting through the roof after-hours due to spectacular earnings and full-year guidance, bystanders may be asking themselves: "How can I get on the train and earn some money?".  I checked a few simple strategies and found out the "covered straddle" strategy offers the best risk-return ratio in the short term. The trade I am advocating for is given below:

(Source: optionsprofitcalculator.com)
Note: the options' prices are likely to change significantly with the market opening. Adjust your profit expectations subsequently.
The risk-return matrix is given below: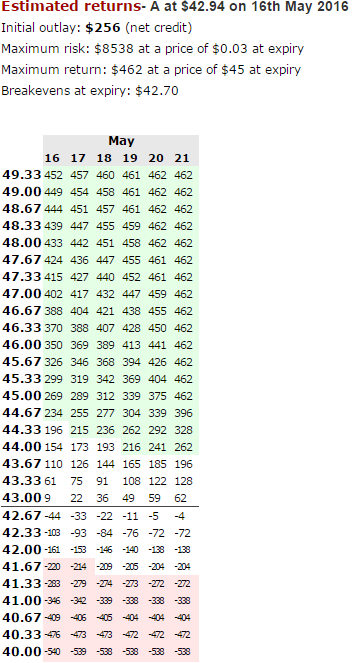 (Source: optionsprofitcalculator.com)
Currently, the net premium receivable offers a 5.6% yield, fees and taxes excluded. If you own, the stock, your upside exposure is covered. In fact, if it keeps going higher, you can earn up to 10% by Friday's close! On the other hand, if you do not own the stock, you should buy it simultaneously with the sale of the straddle.
With this strategy, the main risk is the downside exposure. Because you both own the stock and remain short with the puts, your downside risk is doubled. To limit your exposure, I recommend that you buy and OTM put with the same strike as the break-even price of the position (which is $42.70 per share). The most suitable option is the $42.50 put with a strike of $0.88. Buying this put will limit your gain on the trade to $1.68 per share, or a 3.7% expected return, fees and taxes excluded. Although this may sound like a small return in isolation, keep in mind that this translates into a ~30% annualized return (assuming 252 trading days)! I find this very compelling.

If you are uneasy with the downside exposure, go ahead and buy two puts per each stock you own and each put you are short. This will essentially limit your return to $0.80 per share, or give you a 1.7% yield. While this look ridiculously low in absolute terms, keep in mind that this will essentially be a risk-free return. If you are a risk-averse investors, this is the trade for you.

Choose any strategy on the list you like! Also let me know what you think of this trade in the comments section!