Invitae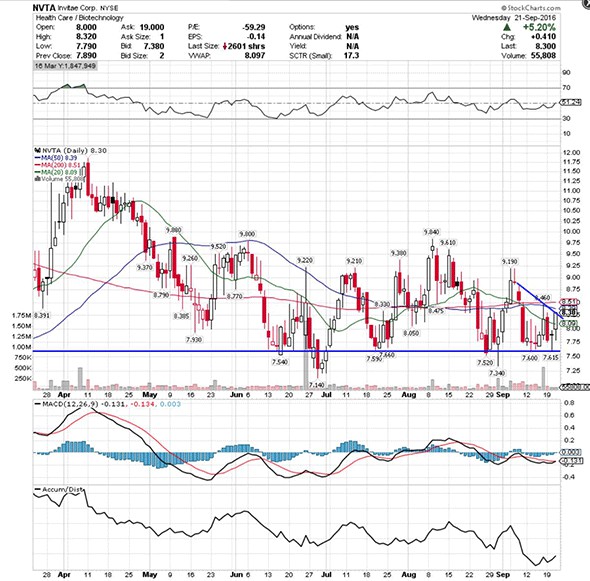 One under-$10 genetic information player that's starting to move within range of triggering a near-term breakout trade is Invitae (NVTA) , which focuses on bringing comprehensive genetic information into mainstream medical practice to enhance the quality of healthcare. This stock has been under modest selling pressure over the last six months, with shares off by 10.4%.
If you take a glance at the chart for Invitae, you'll notice that this stock recently formed a double bottom chart pattern, after shares found some buying interest at $7.60 to $7.61 a share over the last few weeks. Following that potential bottom, shares of Invitae have now started to spike higher and move back above its 20-day moving average of $8.09 a share . That move is now quickly pushing this stock within range of triggering a near-term breakout trade above some key overhead resistance levels.
SMALL INVESTMENT, BIG POTENTIAL. TheStreet's Stocks Under $10 has identified a handful of stocks with serious upside potential. See them FREE for 14-days.
Traders should now look for long-biased trades in Invitae if it manages to break out above both its 50-day moving average of $8.39 a share and its 200-day moving average of $8.51 a share with volume that hits near or above its three-month average action of 118,023 shares. If that breakout takes hold soon, then this stock will set up to re-test or possibly take out its next major overhead resistance levels at $9.20 to $9.60, or even $10 to $10.50 a share.
Traders can look to buy this stock off weakness to anticipate that breakout and simply use a stop that sits right below those recent double bottom support levels. One can also buy shares of Invitae off strength once it starts to clear those breakout levels with volume and then simply use a stop that sits a comfortable percentage from...
More