Earlier in the week, we discussed the prospect of TERP falling because it was overbought and in bearish divergence (4H chart) while testing a key resistance area. 

Now, as price indeed retreats, we have to start anticipating support if it falls into the 10-11 area. 

TERP 4H Chart 7/29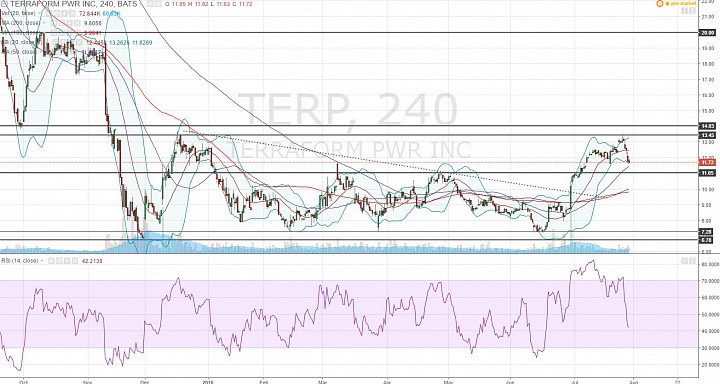 (click to enlarge)

Accumulation?
- The 4H chart shows TERP trading in a descending triangle since the end of 2015. 
- The triangle is a consolidation pattern ending a bearish trend that began in mid-2015 from heights around 42.00.
- The 6.78-7.28 support area has held throughout 2016 and suggests that 2016 could be a year of accumulation, which could lead to a period of bullish reversal going into 2017. 

Signs of Bottom:
- So far, the first sign that TERP is ready for a bullish reversal is the break above the triangle.
- However, as long as it holds under the 13.45-14.00 resistance area, it is still within the context of consolidation.
- Now, as price pulls back towards the central pivot area of the consolidation range (10-11), we should monitor for support. 
- If price holds above 10.00, then there is likely bullish bias developing. 
- IF the RSI holds above 40, there is bullish momentum developing. 
- So, if these 2 scenarios materialize, TERP would likely be turning bullish and the 13.45-14.00 resistance area should not be respected the next time price approaches it .

Target:
- If price breaks above 14.05, its target for either the end of the year or going into 2017 should be around 20.00. 
- If price falls back below 10.00 however, we should shelve the bullish outlook, and anticipate a return towards 7.00.