The summer recess for Congress is due in a few days, and uncertainty is still lurking for the Trump administration's attempt to repeal & replace Obamacare. President Trump's office is going all out to get an all-Republican bill passed, but the task appears uphill.
Going by yesterday's Reuters report, the health care bill's failure may force Republicans to give up on "a seven-year Republican promise to repeal the 2010 Affordable Care Act, popularly known as Obamacare." What's worse is that they might have to turn to Democrats to fix issues with the domestic health insurance markets.
This lack of visibility is no doubt precarious to the medical device market. Ironically, this was the sector that acted differently from the broader healthcare space and was excited about the White House power change.
This sector has always endorsed Trump's Obamacare replacement, at the foremost of which is the abolition of "dreadful taxes." More specifically, Medical Device players want an end to the 2.3% medical device tax and exemption from the unpopular Cadillac tax (40% excise tax on high-cost healthcare plans).
In May, the industry started to rejoice on Trump's first successful legislative move wherein he finally secured the necessary votes from House Republicans to pass the revised American Health Care Act, or AHCA.
While the bill now only needs the Senate's nod, the scenario is getting increasingly challenging for the Medical Device space. Especially after the latest revelation by some moderate senators to 'keep some of its taxes,' there is quite a stir in this industry. Also, the Trump administration's latest proposal to raise the U.S. Food and Drug Administration (FDA) user fee for medical device in 2018 is making the situation worse for medium to small players.
Choosing the Winning Stocks
In quandary in the health care corner hollers for the value strategy when it comes to picking stocks. After all, who wouldn't want stocks that are either on radar, are compelling buys or offering discounts when compared to fair value? And if strong fundamentals are added to the list, this strategy has high chances of steering your portfolio toward lucrative additions.
We have taken the help of the Zacks Stock Screener to select favorable stocks. To shortlist the stocks from the vast universe of medical devices, we have picked the ones that carry a Zacks Rank #1 (Strong Buy) or #2 (Buy) and have a Value Style Score less than or equal to B.
Our research shows that stocks with a Value Style Score of 'A' or 'B' when combined with a Zacks Rank #1 or #2 offer the best opportunities in the value investing space. You can see the complete list of today's Zacks #1 Rank stocks here.
Baxter International BAX: This global medical technology company currently carries a Zacks Rank #2 and a Value Style Score B.
Going by fundamentals, the company's impressive product pipeline is a key catalyst. Baxter recently launched a ready-to-use clindamycin injection in saline in three commonly prescribed formulations. Baxter also achieved a regulatory milestone for its advanced dialysis technology.
Moreover, the company leverages on Automated Peritoneal Dialysis cyclers in the U.S. and HOMECHOICE CLARIA in international markets. We are also upbeat about the company's recently signed definitive agreement to acquire Claris Injectables. The company's expected earnings growth rate for the next fiscal is impressive at 13.7%, which is ahead of the 7.4% rate for the S&P 500 index.
Baxter International Inc. Price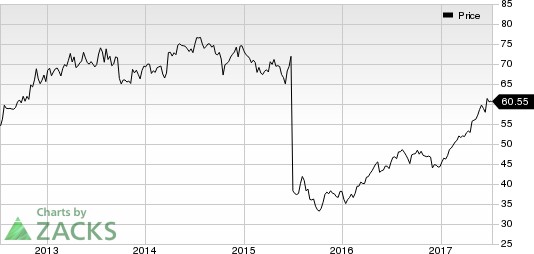 Baxter International Inc. price | Baxter International Inc. Quote
Quest Diagnostics Inc. DGX: This is also an impressive pick based on its Zacks Rank #2 and Value Style Score 'B.' We are looking forward to the company's recently narrowed two-point strategy that focuses on 'Restore Growth' and 'Drive Operational Excellence.' In addition, alliance with hospitals and integrated delivery networks are the other growth drivers. Particularly, the company is positive about its agreement with PeaceHealth in the Pacific Northwest, which is expected to bolster growth, later in 2017. Its guidance for the full year is also encouraging.
The company's estimate revision trend for the current year has been favorable. In the past 60 days, the magnitude of estimate revision increased around 2.2% to $5.56 per share.
Quest Diagnostics Incorporated Price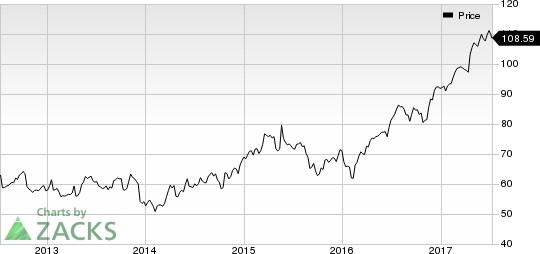 Quest Diagnostics Incorporated price | Quest Diagnostics Incorporated Quote
Tenet Healthcare Corp. THC: This diversified healthcare services company, flaunting a Zacks Rank #1 and a Value Style Score A, is an excellent value pick at present. The company has a P/E multiple of 15.48, discounted as compared to 22.7 for the S&P 500 index.
This stock also looks attractive fundamentally, based on strong functioning together with its subsidiaries, partnerships and joint ventures, including United Surgical Partners International. The company currently operates 80 general acute care hospitals, 20 short-stay surgical hospitals and over 470 outpatient centers in the U.S., as well as nine facilities in the U.K. For the next fiscal year, the stock is expected to register earnings growth of 39.5%, way above the market's 7.4% expected growth rate.
Tenet Healthcare Corporation Price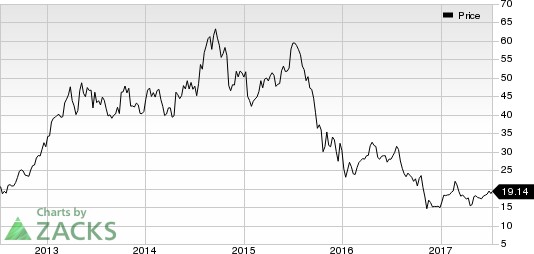 Tenet Healthcare Corporation price | Tenet Healthcare Corporation Quote
More Stock News: 8 Companies Verge on Apple-Like Run
Did you miss Apple's 9X stock explosion after they launched their iPhone in 2007? Now 2017 looks to be a pivotal year to get in on another emerging technology expected to rock the market. Demand could soar from almost nothing to $42 billion by 2025. Reports suggest it could save 10 million lives per decade which could in turn save $200 billion in U.S. healthcare costs.
A bonus Zacks Special Report names this breakthrough and the 8 best stocks to exploit it. Like Apple in 2007, these companies are already strong and coiling for potential mega-gains. Click to see them right now >>
Want the latest recommendations from Zacks Investment Research? Today, you can download 7 Best Stocks for the Next 30 Days.
Click to get this free report
Baxter International Inc. (BAX): Free Stock Analysis Report
Tenet Healthcare Corporation (THC): Free Stock Analysis Report
Quest Diagnostics Incorporated (DGX): Free Stock Analysis Report
To read this article on Zacks.com click here.
Zacks Investment Research