Biogen Inc. BIIB, a well-known name in the multiple sclerosis (MS) market, surpassed expectations both for earnings and sales in the second quarter of 2017. The drugmaker also raised its revenue guidance for 2017 as sales of its newest drug Spinraza (spinal muscular atrophy) witnessed faster-than-expected adoption in the U.S.
Shares of Biogen rose almost 5% in pre-market trading in response to the strong results. However, we note that Biogen's shares have inched up 0.8% so far this year, comparing unfavorably with the industry's increase of 12.7%.

Biogen reported second-quarter 2017 earnings per share of $5.04, which beat the Zacks Consensus Estimate of $4.36 by 15.6%. However, earnings decreased 3% year over year.
Sales came in at $3.08 billion, up 6% from the year-ago period. Sales also surpassed the Zacks Consensus Estimate of $2.81 billion by 9.6%. The top line, excluding hemophilia revenues, grew 15% year over year. The company spun off its hemophilia business in February.
Quarter in Detail
Biogen's MS revenues grew 5% year over year in the second quarter of 2017 with stable global share.
Tecfidera sales rallied 13% from the year-ago period to $1.11 billion. The drug recorded a 16% sequential surge in revenues. This included the U.S. sales of $875 million and ex-U.S. sales of $235.6 million. In the U.S., Tecfidera revenues benefited from seasonal recovery in both unit volumes and discounts as well as allowances.
Second-quarter Tysabri revenues were flat year over year and the same decreased 9% sequentially to $496 million (U.S. $289.4 million, ex-U.S. $206.6 million).
Note that Tysabri revenues in the first quarter of 2017 benefited by approximately $45 million in the ex-U.S. markets due to an agreement with the Price and Reimbursement Committee of the Italian National Medicines Agency (AIFA) related to Tysabri sales. This benefit was missing in the second quarter, leading to the sequential decline.
Combined interferon revenues (Avonex and Plegridy) in the second quarter were $691 million (U.S. $501.7 million, ex-U.S. $188.9 million), down 5% from the year-ago period. Avonex revenues declined 8% from the year-ago period to $557 million. Plegridy contributed $133 million to second-quarter 2017 revenues, up 8% year over year and 19% sequentially.
U.S. Interferon revenues are experiencing declining trends due to patients transitioning to other oral MS therapies as well as higher discounts and allowance.
Zinbryta, launched in collaboration with AbbVie Inc. ABBV in August last year, contributed $16 million to revenues in the second quarter compared with $11 million in first-quarter 2017.
Newly launched Spinraza brought revenues of $203 million (U.S. revenues $195 million) in the second quarter, registering massive growth of 328% sequentially as the drug witnesses a strong demand in the U.S. U.S. Spinraza revenues included approximately $30 million related to an inventory build in the U.S. The company is working on expanding access to all patients.
Notably in Jun 2017, Spinraza was granted a marketing authorization in the EU for treatment of 5q spinal muscular atrophy (SMA). It was also approved of in Japan and Canada recently.
This quarter, Biogen recorded biosimilar revenues of $91 million compared with $66 million in first-quarter 2017. The company markets Benepali, a biosimilar referencing Amgen Inc.'s AMGN Enbrel in Europe. Benepali recorded revenues of $88.7 million, thus registering a growth rate of 35.8% sequentially. Biogen also markets Flixabi, a biosimilar referencing Johnson & Johnson's JNJ blockbuster drug Remicade, which recorded revenues of $1.9 million in the reported quarter compared with $0.6 million in the first quarter.
Revenues from Anti-CD20 therapeutic programs, which include Biogen's shares of Rituxan and Gazyva operating profits, climbed 14% from the year-ago period to $397 million in the second quarter.
R&D spend soared 68% in the reported quarter to $796 million, while SG&A spend decreased 12% year over year to $430 million.
This quarter, the company repurchased 2.9 million shares worth $782 million under its $5.0 billion share repurchase program.
2017 Outlook
Biogen raised its earnings and revenue outlook for 2017.
Biogen now expects earnings in the range of $20.80-$21.40 per share (old guidance: $20.45-$21.25 per share) for 2017.
Revenues are now expected in a range of $11.5-$11.8 billion comapred with the earlier guidance of $11.1-$11.4 billion in 2017. This increase from prior guidance is primarily attributed to faster-than-anticipated adoption of Spinraza in the U.S.
In terms of percentage of the total revenue, the company's R&D and SG&A expenses are expected to be 19% and 16% respectively.
Biogen Inc. Price, Consensus and EPS Surprise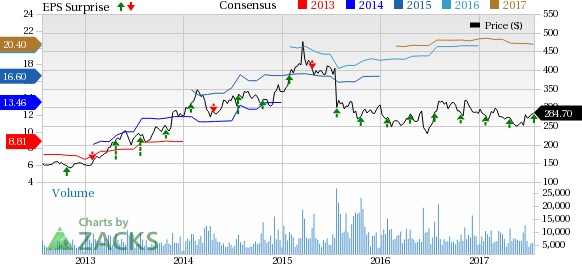 Biogen Inc. Price, Consensus and EPS Surprise | Biogen Inc. Quote
Zacks Rank
Biogen currently carries a Zacks Rank #3 (Hold). You can see the complete list of today's Zacks #1 Rank (Strong Buy) stocks here.
More Stock News: Tech Opportunity Worth $386 Billion in 2017
From driverless cars to artifical intelligence, we've seen an unsurpassed growth of high-tech products in recent months. Yesterday's science-fiction is becoming today's reality. Despite all the innovation, there is a single component no tech company can survive without. Demand for this critical device will reach $387 billion this year alone, and it's likely to grow even faster in the future.
Zacks has released a brand-new Special Report to help you take advantage of this exciting investment opportunity. Most importantly, it reveals 4 stocks with massive profit potential. See these stocks now>>
Want the latest recommendations from Zacks Investment Research? Today, you can download 7 Best Stocks for the Next 30 Days.
Click to get this free report
Johnson & Johnson (JNJ): Free Stock Analysis Report
AbbVie Inc. (ABBV): Free Stock Analysis Report
Amgen Inc. (AMGN): Free Stock Analysis Report
Biogen Inc. (BIIB): Free Stock Analysis Report
To read this article on Zacks.com click here.
Zacks Investment Research