Curious why DirectEdge "broke" exactly one hour ago? Simple: to prevent what's left of retail from dumping into the latest momentum plunge:
When EDGX broke, retail got locked out of trading - example in

https://twitter.com/search?q=%24GLD&src=ctag

pic.twitter.com/yiRlRSRQCE

— Eric Scott Hunsader (@nanexllc)

https://twitter.com/nanexllc/status/522763325609091072
Sure enough, it succeeded in locking out the weak hands from further dumping, because while it is still legal to sell, why make it illegal if you can just "break" the market itself.
So what happened next? Well, the S&P, after dropping 1.5%, just turned green: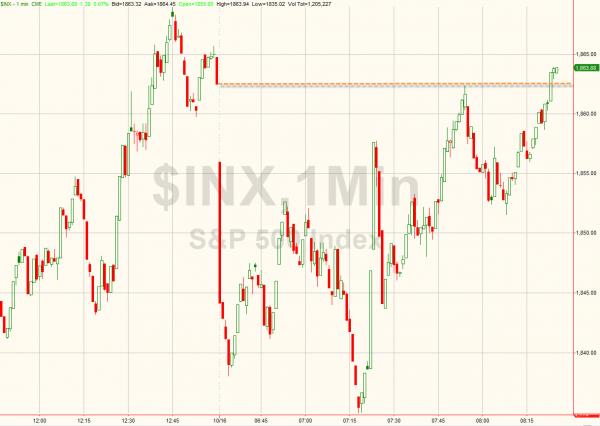 And the punchline: market magically unbreaks as soon as the S&P turned green.
EDGX: ALL SYSTEMS NOW OPERATING NORMALLY
The most hilarious, ridiculous, rigged market in the world: priceless. For all other E-mini buying needs, there's PPTcard.