(Source: Businessinsider.com)
Green Mountain Coffee Roasters (NASDAQ:GMCR) is an interesting stock stock to watch, and an appropriate one to talk about in the morning. Back in 2010 the companies stock saw a major decline due to some issues with the SEC and respected hedge fund managers shorting the stock. The stock has been on the rise this year, it is currently trading at $78.06.  
Over the past few years, the company has certainly been growing and its balance sheet has been strengthening. Cash has increased from $355 thousand in 2010 to 71.2 million in 2012. Inventory has also increased from $177.6 million in 2010 to $396.7 million in 2012. More good news, the company's current ratio has increased from 2.08 to 2.54.  So the company is definitely more solid than it was in 2010 and continue to become solidify.
The product is good. However other competitors are entering the space.  The problem that that Green Mountain has, however, is a lack of strong revenue growth, revenue growth has been declining over the past few quarters. Here is a graph created by Bill Maurer of Seeking Alpha: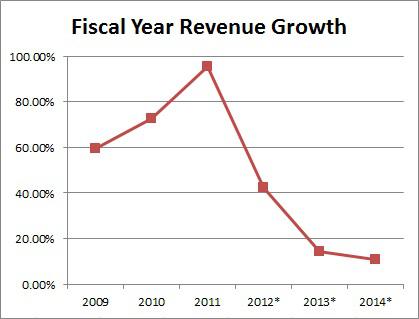 Up to 2011, revenue has been growing tremendously, however, growth is expected to decline in coming years. Why? This could be due to more competition in the market.
So is the stock too expensive?