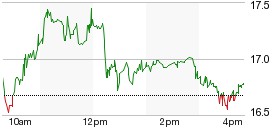 TUCSON, Ariz., July 11, 2016 (GLOBE NEWSWIRE) -- Accelerate Diagnostics, Inc. ("Accelerate") announced today the submission of a De Novo request for Evaluation of Automatic Class III Designation to the U.S. Food and Drug Administration (FDA) for its Accelerate Pheno™ system and Accelerate PhenoTest™ BC kit for positive blood culture samples.
The fully automated system provides high-speed identification (ID) and antimicrobial susceptibility testing (AST) of pathogens from patient samples faster than conventional methods. In recently completed marketing studies, the system and kit saved more than 40 hours as compared to standard of care methods; creating the potential to expedite optimal antimicrobial therapy for patients suspected of bacteremia or fungemia, both life-threatening conditions with high morbidity and mortality risk.
The Accelerate PhenoTest™ BC kit consists of a highly multiplexed panel of assays targeting the most prevalent microorganisms and the antimicrobial agents typically used to treat them. Accelerate anticipates launching the BC kit with 140...
More