EURUSD is continuously shedding since after the ECB press conference. Couple of data released today which added losses to the pair.
Flash GDP q/q: Actual - .2%, Forecast- .4%
Core CPI y/y: Actual - .7%, Forecast - .7%
France Prelim GDP q/q: Actual- 0%, Forecast- .4%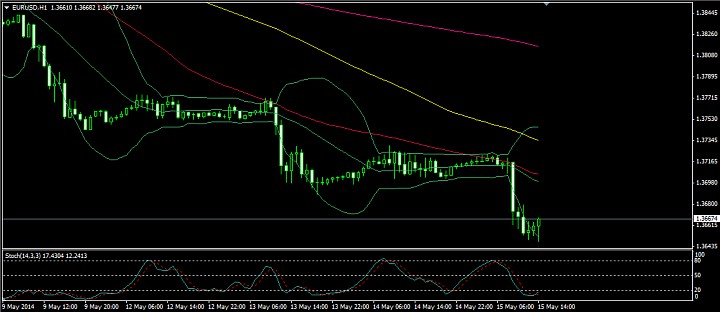 Bollinger Bands : Looking at the hourly chart, EURUSD fell down below the lower band of the Bollinger bands. Bollinger bands are used to confirm trading signals, where bands indicate overbought and oversold levels relative to moving average. The bands contracted which indicates that the market is about to trend, and is followed by a sharp price movement which we can see on the chart. All 50 day, 100 day and 200 day SMAs are also signaling further selling of the pair. The pair might rise from the lower bands towards the middle band but it will again come down. So it opens the opportunity to short this pair once it reaches the middle band level.
Now investors are waiting for ECB decision to cut policy rates and if it happens that will again add heavy losses to the pair.