When @Steven_Ballmer tweeted last night about acquiring a 4% stake in TWTR, many thought he was either hacked or the account was bogus. It appears, given Bloomberg headlines that this has been confirmed. A 4% stake makes him a bigger holder than Jack Dorsey who owns 3.2%.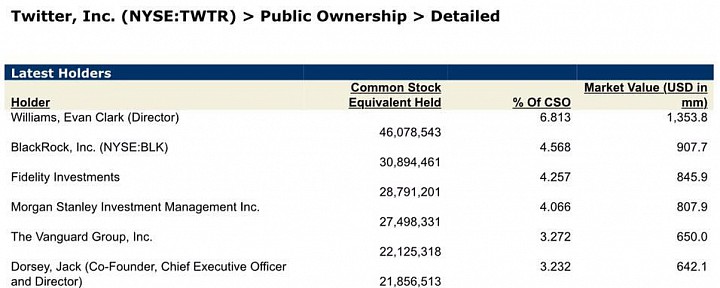 The initial tweet...
Good job

https://twitter.com/twitter

,

https://twitter.com/TwitterMoments

innovation,

https://twitter.com/jack

Ceo, leaner, more focused. Glad I bought 4% past few months. Like

https://twitter.com/AlWaleedbinT

move too

— Steve Ballmer (@Steven_Ballmer)

https://twitter.com/Steven_Ballmer/status/654887753893543936
And Bloomberg appears to confirm at 1132ET:
*STEVE BALLMER SAYS HE OWNS 4% STAKE IN TWITTER
*STEVE BALLMER COMMENTS IN E-MAIL TO BLOOMBERG NEWS
Steve Ballmer confirms in e-mail to Bloomberg News that he owns a 4% stake in Twitter.
The result...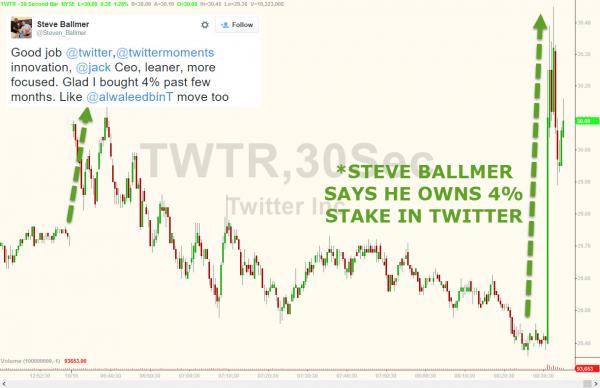 Don't get too excited though...
Just saying. pic.twitter.com/u8u6VZ2S7U

— Rudolf E. Havenstein (@RudyHavenstein)

https://twitter.com/RudyHavenstein/status/655047824141217792