Irvine, CA-based Masimo Corporation MASI recently announced the receipt of CE mark for the noninvasive and reusable rainbow Super DCI-mini sensor. The sensor is based on the company's flagship SET pulse oximetry (Measure-through Motion and Low Perfusion). Notably, pulse oximetry is a noninvasive method for monitoring a person's oxygen saturation.
The regulatory progress under the European Directive is likely to expand the company's footprint in the niche space of noninvasive medical sensors. However, the rainbow Super DCI-mini has not received FDA 510(k) clearance and is thus not available for sale in the U.S.
Coming to its properties, the sensor can be used to spot-check patients to measure total hemoglobin and arterial oxygen saturation. The small and lightweight device can be applied to an adult finger, pediatric finger, infant finger, thumb, or even great toe.
We believe positive tidings like these will strengthen Masimo's product portfolio. The company's non-invasive products like SET pulse oximeter and the rainbow SET technology have been key catalysts for long. During the first quarter, the company shipped approximately 47,900 SET Pulse Oximeters and Rainbow SET Pulse CO-Oximeters, excluding handheld units. Per company estimates, its worldwide installed base totaled 1,525,000 units. Also, product launches and a growing installed base of existing devices are likely to help Masimo gain market traction.
Stock Performance Solid
Masimo has had an impressive run on the bourse in the last six months. The stock has gained roughly 30.4%, higher than the Zacks categorized Medical instruments sub industry's addition of roughly 13.9%.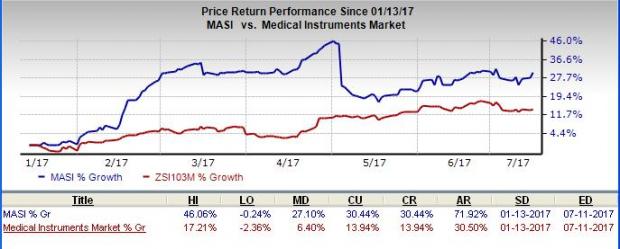 The current level compares favorably with the S&P 500's return of 8.3% over the same time frame. This, together with a long-term expected earnings growth rate of 17.5%, instills confidence in investors.
Masimo currently carries a Zacks Rank #3 (Hold).
Our Take
We believe Masimo's expanding product portfolio is a key catalyst. With growing awareness worldwide, the medical sensors market is expanding in leaps and bound. Per data from Markets And Markets, the global medical sensors market is estimated to reach a worth of $15.01 billion by 2022. Wider adoption of the company's non-invasive patient monitoring technology will boost its growth trajectory.
In fact, the company issued a strong outlook in the last reported quarter. Masimo now expects total fiscal 2017 revenues of approximately $759.0 million, up from the previous estimate of $752.0 million. Fiscal 2017 adjusted earnings per diluted share are expected to be approximately $2.65, up from $2.30 issued previously.
Key Picks
A few better-ranked stocks in the broader medical sector are Edwards Lifesciences Corporation EW, CryoLife, Inc. CRY and Edap Tms S.a. EDAP. Notably, Edwards Lifesciences and Edap sport a Zacks Rank #1 (Strong Buy), while CryoLife has a Zacks Rank #2 (Buy). You can see the complete list of today's Zacks #1 Rank stocks here.
Edwards Lifesciences has a long-term expected earnings growth rate of 15.2%. Notably, the stock represents an impressive one-year return of 10.4%.
CryoLife yielded a strong return of 4.5% over the last one month. The stock delivered a positive earnings surprise of 80% in the last reported quarter.
Edap Tms represents an impressive return of 22.8% for the last three months. The company delivered a solid earnings surprise of 533.3% in the last reported quarter.
More Stock News: 8 Companies Verge on Apple-Like Run
Did you miss Apple's 9X stock explosion after they launched their iPhone in 2007? Now 2017 looks to be a pivotal year to get in on another emerging technology expected to rock the market. Demand could soar from almost nothing to $42 billion by 2025. Reports suggest it could save 10 million lives per decade which could in turn save $200 billion in U.S. healthcare costs.
A bonus Zacks Special Report names this breakthrough and the 8 best stocks to exploit it. Like Apple in 2007, these companies are already strong and coiling for potential mega-gains. Click to see them right now >>
Want the latest recommendations from Zacks Investment Research? Today, you can download 7 Best Stocks for the Next 30 Days.
Click to get this free report
Masimo Corporation (MASI): Free Stock Analysis Report
EDAP TMS S.A. (EDAP): Free Stock Analysis Report
Edwards Lifesciences Corporation (EW): Free Stock Analysis Report
CryoLife, Inc. (CRY): Free Stock Analysis Report
To read this article on Zacks.com click here.
Zacks Investment Research