Chesapeake Energy Corporation CHK is slated to report third-quarter 2017 results on Nov 2, before the opening bell.
In the preceding three-month period, the company reported a positive earnings surprise of 28.57%. Coming to the earnings surprise history, Chesapeake beat the Zacks Consensus Estimate in all the prior four quarters, the average positive earnings surprise being 97.82%.
Let's see how things are shaping up prior to the announcement.
Earnings Whispers
Our proven model shows that Chesapeake is likely to beat earnings because it has the perfect combination of two key ingredients.
Zacks ESP: Earnings ESP, which represents the difference between the Most Accurate estimate and the Zacks Consensus Estimate, is +7.81%. This is because the Most Accurate estimate stands at 12 cents, while the Zacks Consensus Estimate is pegged lower at 11 cents. This is a meaningful and leading indicator of a likely positive earnings surprise. You can uncover the best stocks to buy or sell before they're reported with our Earnings ESP Filter.
Zacks Rank: Chesapeake carries a Zacks Rank #3 (Hold). Note that stocks with a Zacks Rank #1 (Strong Buy), 2 (Buy) or 3 have a significantly higher chance of beating earnings.
Conversely, Sell-rated stocks (Zacks Rank #4 and 5) should never be considered going into an earnings announcement.
Q3 Price Performance
During the quarter, Chesapeake lost 13.5% as against the industry's 5% gain.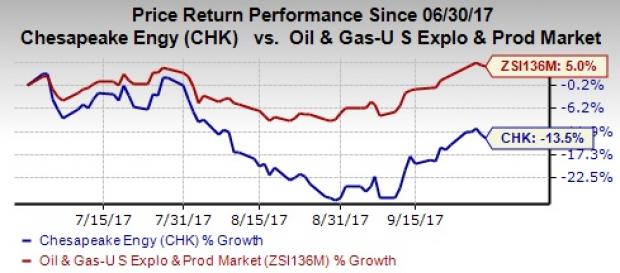 Factors Likely to Affect Earnings
As per the company's quarterly update issued on Sep 26, the estimate of production for the third quarter was 542,000 barrels of oil equivalent per day (BoE/D), up from 527,600 BoE/D in the April-to-June quarter of 2017.
Also, the commodity pricing scenario during the July-to-September quarter was favorable. As per macrotrends, The West Texas Intermediate (WTI) crude saw a 12.2% gain during the third quarter of 2017 after two consecutive quarters of decline this year. Notably, this is the highest quarterly gain since the April-to-June quarter of 2016.
Higher oil equivalent production and record crude price should favor the company's Q3 results.
Other Stocks to Consider
Other energy companies you may want to consider on the basis of our model, which shows that they have the right combination of elements to post an earnings beat this quarter:
Denbury Resources Inc. DNR, headquartered in Plano, TX, is a leading exploration and production player. The company has an Earnings ESP of +11.11% and a Zacks Rank #2. You can see the complete list of today's Zacks #1 Rank stocks here.
Tesoro Corp. ANDV, based in San Antonio, TX, is a leading refining player. The company has an Earnings ESP of +5.02% and a Zacks Rank #3.
Canadian Natural Resources Ltd. CNQ, a Calgary-based upstream energy firm, has an Earnings ESP of +1.08% and a Zacks Rank #2.
Wall Street's Next Amazon
Zacks EVP Kevin Matras believes this familiar stock has only just begun its climb to become one of the greatest investments of all time. It's a once-in-a-generation opportunity to invest in pure genius.
Want the latest recommendations from Zacks Investment Research? Today, you can download 7 Best Stocks for the Next 30 Days.
Click to get this free report
Canadian Natural Resources Limited (CNQ): Free Stock Analysis Report
Chesapeake Energy Corporation (CHK): Free Stock Analysis Report
Denbury Resources Inc. (DNR): Free Stock Analysis Report
Tesoro Corporation (ANDV): Free Stock Analysis Report
To read this article on Zacks.com click here.
Zacks Investment Research