The EUR/USD has been choppy throughout 2016. It is one of the pairs I stayed away from for most of the time, except when it flew too high around range resistance, or dipped too low to range support.

EUR/USD Weekly Chart 10/18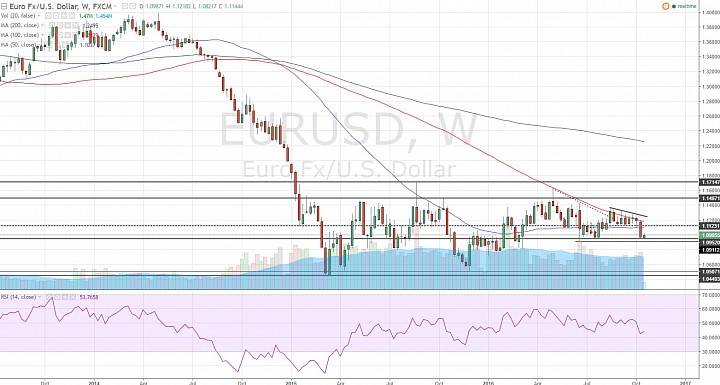 (click to enlarge)

Central pivot:
- As price dipped under 1.10 last week, EUR/USD entered a key area I call the central pivot of a consolidation range that has been forming since 2015. 
- The weekly chart shows price falling last week to the middle of this range and finding support this week.
- From the weekly chart, the EUR/USD is considered "neutral" since it is after all in the middle of a range. 
- So, the weekly chart at this moment doesn't offer any clues for the direction of EUR/USD. But it's good to understand we are at a long-term neutral price level, so we know to limit our expectations of any directional movement. 

EUR/USD 4H Chart 10/18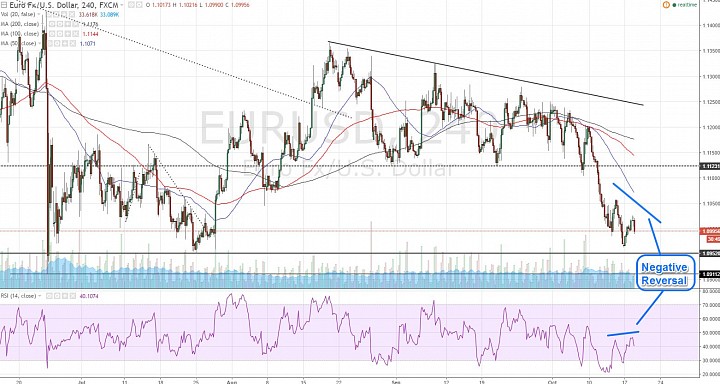 (click to enlarge)

Approaching central pivot:
- The EUR/USD turned bearish in October after completing a descending triangle that was forming since August. 
- Now, in the 4H chart, we can see more clearly how price has been finding support in the 1.0910-1.0955 area. 
- This is the central pivot of a long-term range, seen in a short-term chart. We can see that there have been at least short to medium-term rallies from this area. 

One more swing:
- As price hovers above this area, I would expect one more swing. 
- Not because there is some magical gravity towards the central pivot, but because the short-term bearish momentum is still in play. 
- Even though price had a bullish divergence with the RSI, it also created what's call the negative reversal - lower highs matched with higher highs in the RSI. This suggests there is still momentum for another low in the short-term.