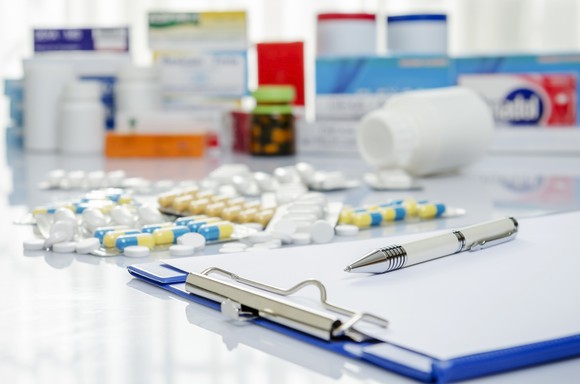 Diplomat Pharmacy (NYSE:DPLO) disappointed investors in the second quarter, with revenue missing expectations. And the specialty pharmacy didn't make shareholders any happier when it announced third-quarter results after the market closed on Wednesday. Here are the highlights from Diplomat's update.
Diplomat Pharmacy results: The raw numbers
| Metric | Q3 2016 Actuals | Q3 2015 Actuals | Growth (YOY) |
| --- | --- | --- | --- |
| Sales | $1.18 billion | $946.9 million | 24.7% |
| Net income from continuing operations | $5.4 million | $15.9 million | (66%) |
| Earnings per diluted share | $0.08 | $0.24 | (66.7%) |
What happened this quarter?
The only bright spot for Diplomat in the third quarter was solid growth in revenue. A little over half of that growth, though, stemmed from the company's acquisition of TNH Advanced Specialty Pharmacy. The rest of the revenue growth came from newly introduced drugs and price increases for existing drugs.
Despite the higher revenue figure, investors' expectations still weren't met. Diplomat faced a couple of key challenges during the third quarter that negatively affected revenue. The company incurred around $8 million in direct and indirect remuneration (DIR) fees. These fees are price concessions made to Medicare Part D plans that aren't included at the point of sale. Diplomat also saw a shift from older hepatitis C drugs to new drugs that generated less revenue.
Earnings comparisons suffered for several reasons, including the higher DIR fees and the shift in mix to less profitable drugs. Diplomat also received a one-time $3 million incentive in the third quarter of 2015 that helped improve financial results in the prior-year period.
Higher...
More