Waste Management (WM) is the largest waste and recycling company in North America and has an impressive dividend profile.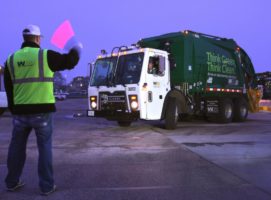 The company provides mission critical services, possesses a strong moat, and has been a consistent cash flow generator over the last decade, just like many of the best high dividend stocks here.
Its scale and essential services are advantages that have allowed Waste Management to grow its dividend consistently over the last 14 years.
Let's take a closer look at Waste Management to learn why it is a core holding in Bill Gates dividend portfolio and see if it is attractively priced today.
Business Overview
Waste Management possesses the largest network of recycling facilities, transfer stations, landfills, recycling facilities, and processing plants in the industry. The company makes money by entering into contracts with customers to collect, transport, process, store, and dispose of their waste.
In just 30 years of operation, the company has built an impressive and diverse base of more than 21 million customers spread across municipal, residential, commercial and industrial segments in the U.S. and Canada. During 2016, WM's largest customer represented just 1% of its annual revenues.
Waste Management's revenues can be segregated into collection (54% of 2016 revenues), landfill (19%), transfer (9%), recycling (8%) and other services (10%). Commercial is the largest segment accounting for 40% of collection revenues, followed by residential (28%), industrial (27%) and other (5%) segments.
The commercial and industrial businesses are more lucrative customers for WM because they typically have multi-year contracts in place, making cash flows more predictable and stable.
Business Analysis
The trash collection business might look easy, but it actually has substantial barriers to entry. As the largest player in the market, Waste Management also carries several additional advantages.
First, there just aren't any viable alternatives to trash disposal today. Consumers and businesses alike need to have their garbage collected and taken off-site. With the average American generating a couple pounds of trash each day, there is a constant need for Waste Management's services.
But why does Waste Management have such a strong market position? This is when the company's valuable, hard-to-replicate network of assets comes into play.
Waste that is not recycled or processed into forms of energy is taken to transfer stations, which consolidate waste into larger, long distance trucks. These trucks then take the waste to disposal facilities and landfills that are usually located somewhat far away.
WM owns over 240 landfills, more than its next two largest competitors combined. The number of landfills has fallen from over 7,600 in the mid-1980s to about 1,900 in 2013. That's over a 75% decrease in less than 30 years!
Government regulations, neighborhood restrictions, high start-up costs, and environmental concerns have all played a factor in the decline of available landfills.
While the remaining landfills are larger and more efficient than their predecessors, there are only so many places that waste management companies can park trash. As a result, Waste Management's competitors must pay the company a "tipping fee" to deposit waste at its landfills and use its transfer stations.
Waste Management's ownership of key assets, dense trash collection network, and tipping fees allow it to maintain a lower cost profile than its peers. The company then attracts more waste volume from customers, which results in greater route density and higher returns on its invested capital compared to peers.
In addition to the toll-taking advantage Waste Management has at its landfills, new entrants also have a challenging time winning enough business to justify the significant investment needed to construct for their own disposal facilities.
Waste Management and other players already have contracts with customers, which typically last anywhere from two to seven years.
In fact, the company has noted that more than 80% of its commercial and industrial customers have a contract length greater than three years, and the typical customer stays with Waste Management for 10 years.
New entrants have a difficult time securing the cash flow streams necessary to build their own trash disposal network, especially since they cannot compete on price.
Furthermore, Waste Management's large...
More