RBA Monetary Meeting Minutes
- Dovish. They revealed that the bank is concerned with the weak economic recovery, especially as China's economy is becoming uncertain as well. China is a major trade partner provides key demand for Australia's industries. The Aussie fell, but in AUD/USD and AUD/JPY still retains June's bullish structure and mometnum. The AUD/NZD however was bearish in June, and remains so after the dovish RBA minutes.
AUD/USD 4H Chart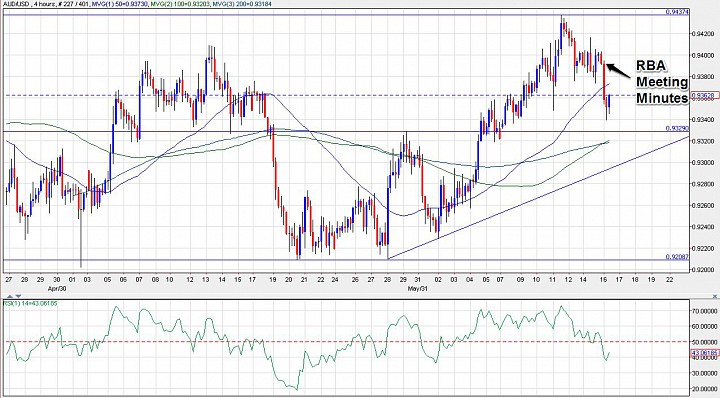 AUD/USD
remains bullish as it holds above 0.9330. A break below 0.9320 however could reverse June's bullish outlook, and put focus back to the 0.92-0.9230 lows. Otherwise, the focus remains on the 0.9460, high on the year.
AUD/JPY 4H Chart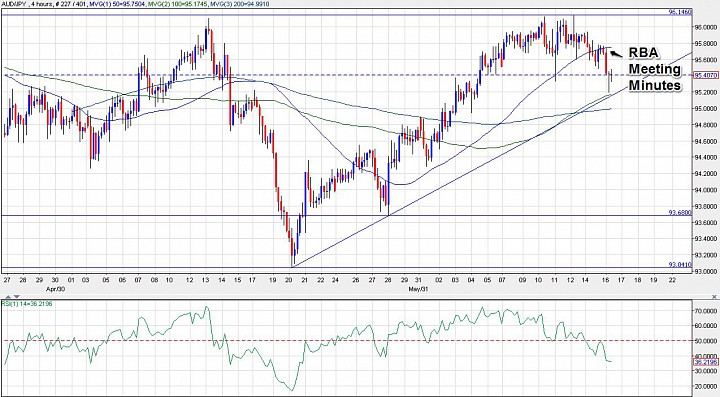 AUD/JPY has also been strong and also stalled under its 2014-high. After the dovish RBA minutes, AUD/JPY fell but is supported at a rising trendline. A hold above this trendline maintains focus on the 96.50 high on the year. A break below 95.00 would clear the rising trendline, and the moving averages in the 4H chart. This would expose the lows around 93.80 and 93.05.
AUD/NZD 4H Chart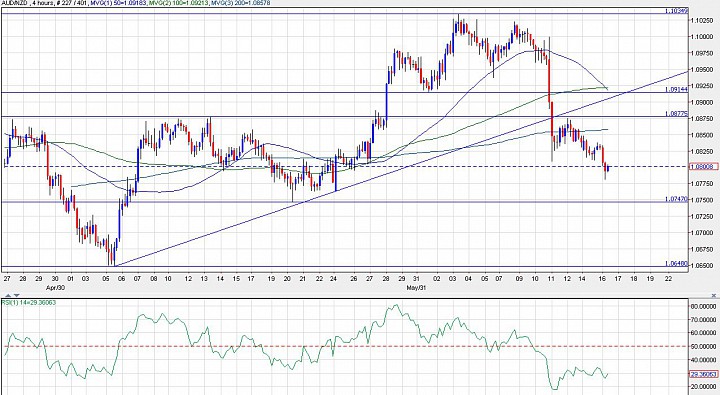 While AUD/USD and AUD/JPY have been bullish in June, AUD/NZD has been bearish. The New Zealand Dollar is strong on the back of a hawkish RBNZ, which is on a rate-hike campaign having raised rates 3 times in a row this year. 
AUD/NZD
is developing a bullish divergence with the RSI, so it also signals that an attempt to counter the initial RBA-reaction. However, AUD/NZD is turning bearish so look for resistance around 1.0875, and in the 1.09-1.0925 area. A break above 1.0925 could return the pair to a bullish outlook, or simply flatten the current bearish correction to a large sideways one. Below 1.0875, the bearish outlook would be clear, and the 1.0750 and 1.0650 lows would be in sight.