GBP/USD started the week consolidating and in a bullish correction against a prevailing bearish trend, which has been sharp since the 1.7191 high on the year from July.
There was a double bottom above 1.6150 and with resistance around 1.6155. After price moved above this bottom, it came up to 1.6277 and consolidated again with support just above 1.62. 
During the 9/16 session, GBP/USD is moving below 1.62, staying below the 200-, 100-, and 50-hour simple moving averages, and dragging the 1H RSI below 30. These are signs of a market turning bearish for the short-term.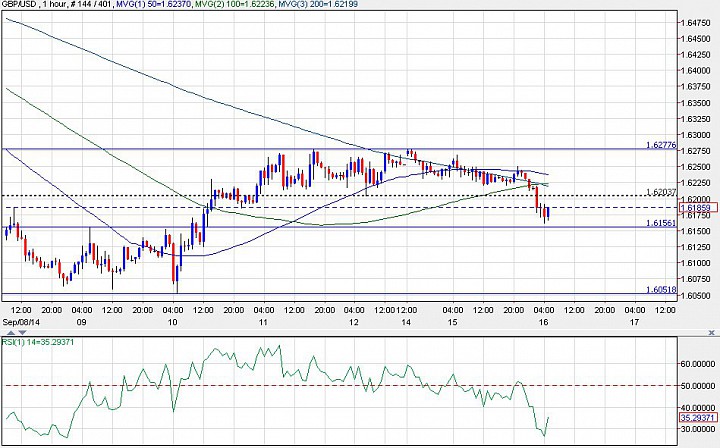 (GBP/USD 1H Chart 9/16)
This bearish shift can be maintained if price can hold below 1.6225. A break above 1.6250 would return GBP/USD back to a neutral/bullish mode in the short-term, especially if the 1H RSI comes back above 60 to show loss of bearish momentum. Then, there is upside risk toward 1.6277, and the 1.64 handle. 
In the 4H chart, we can see a bearish market holding below the 50-period SMA. The 4H RSI also held below 60, so all-systems seem a go for the bearish outlook. The 1.6150 area, which was resistance last week, is the current support. A break opens up the 1.6052 low, and possibly the 1.60 handle.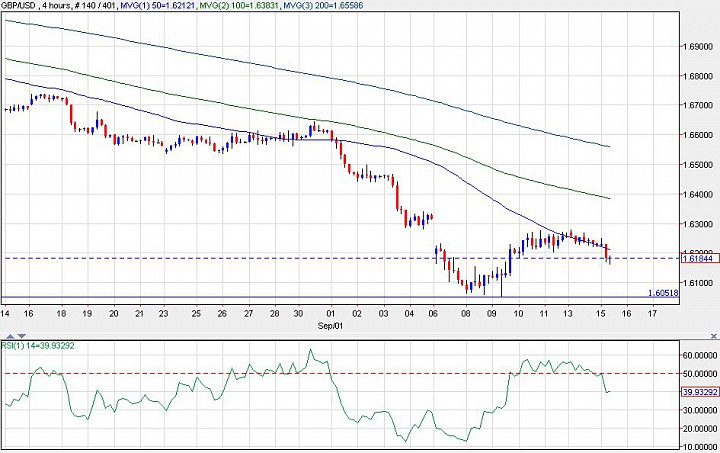 (GBP/USD 4H Chart 9/16)

Wednesday's Risks:

The current outlook needs to be contained because we will likely get a lot of volatility tomorrow amid a Scottish Independence Vote and the FOMC Monetary Policy Statement. If price can hold above 1.6050, GBP/USD might still be trying to form a price bottom. A return above 1.6250 would also hint at a bullish correction with 1.64 in sight. However, if price can hold or return below 1.62 after tomorrow, we still have downside risk toward 1.6050 and 1.60.