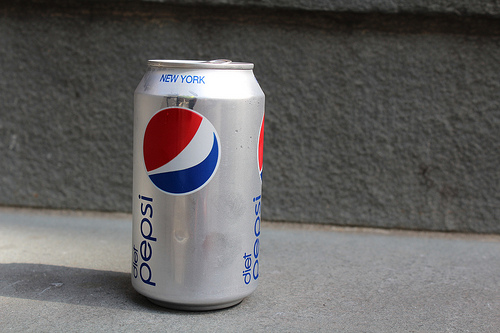 Attention all fans of Diet Pepsi (NYSE: PEP)!
One of the United States' most popular diet beverages is about to make some major changes, particularly when it comes to the beverage's artificial sweeteners.
Inside of using aspartame, which has had a bad reputation in the United States since the 1970s among consumers, the company will not use a combination of sucralose instead, CNN Money reported. More familiarly, sucralose is what's commonly found in yellow packets of artificial sweeteners, like Splenda.
"And the number one thing we see from consumers is a complaint about aspartame," Pepsi CEO North America, Al Carney, said according to CNN Money. "Aspartame is the sweetener that seems to get most of the negatives in the press and on YouTube."
According to CNN Money, the federal government, through its own testing, has not found a link indicating consumption of diet sodas is related contracting cancer. In April, Diet Coke reported a 6% sales decrease year-over-year, according to CNN Money. 
Pepsi will also be changing the ingredients in Caffeine Free Diet Pepsi, as well as Diet Wild Cherry Pepsi to incorporate the new ingredient and quell consumer fears. Currently, Diet Pepsi True is sweetened with Stevia.
As a non-soda drinker, its difficult for me to understand why anyone would drink soda if they are concerned at all about their health. However, drinking a diet soda, no matter what artificial sweetener its sweetened with, remains artificial.
These chemicals wreak havoc on a persons body, and have shown to lead to increased risks of diabetes in the long term.
For more business and financial news, click here.
*This is editorial content and expresses the opinion of the reader.