When it comes to exposing the disturbing, some say desperate, propaganda wave sweeping the nation, nothing has quite captured the unprecedented decoupling between policy-accepted "confidence indicators" such as the Conference Board, which in August printed at its 2015 highs and those which actually poll people such as Gallup, whose economic outlook indicator collapsed to the lowest level in one year.

Which, considering the general state of the economy, begs the question: has Gallup now officially become the one poll-based indicator that has not been tained by "policy-supervision."
We don't know the answer, but we do know that if Gallup indeed provides an accurate representation of the US economy, then August retail spending - that most important driver of the US economy, more important even than the backward looking GDP print - is set to come crashing down with a bang. The reason: according to the latest Gallup report on US consumer spending, in which a random sample of 15.724 adults were interviewed by phone, Americans' self-reported daily spending averaged just $89 in August, down not only from August in 2014 and 2013...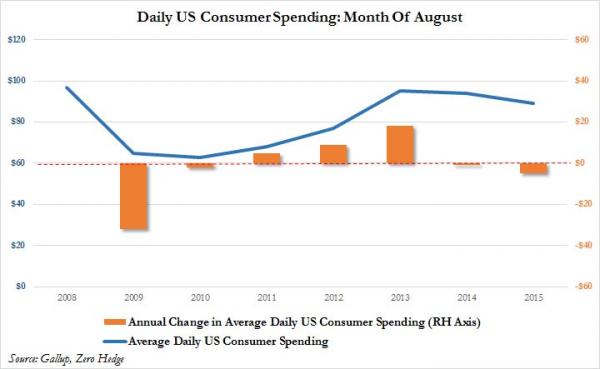 ... but the fourth month in a row of year-over-year spending declines, as well as was also the lowest monthly spend since March of 2015.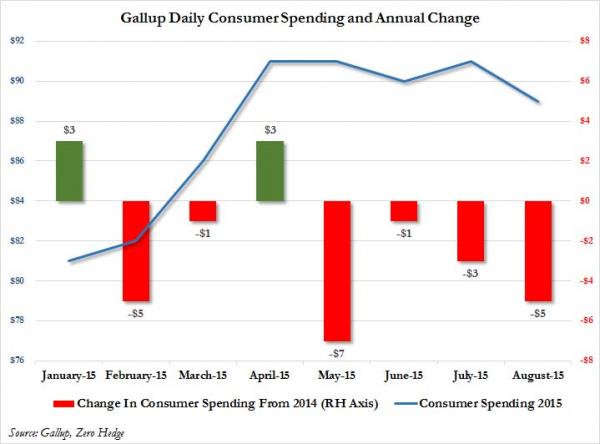 And this time there are no "scapegoats" to blame the spending slowdown on: the weather in August was uniformly gorgeous around the US.
A quick reminder what Gallup foes actually measure:
Gallup's daily spending measure asks Americans to estimate the total amount they spent "yesterday" in restaurants, gas stations, stores or online -- not counting home, vehicle or other major purchases, or normal monthly bills -- to provide an indication of Americans' discretionary spending. The average for August 2015 is based on Gallup Daily tracking interviews with more than 15,000 U.S. adults.
As Gallup reminds us, "spending peaked at $114 in May 2008 before waning and then plunging amid the global economic crisis that took hold later in the year. From 2009 to 2012, spending stagnated, ranging between $58 and $83. Americans' spending picked up in late 2012, and continued in 2013 and 2014, ranging from $78 to $98." Since then it has clearly tapered off and is a long, long way away from the pre-crisis peaks hit in mid-2008 before the trapdoor opened.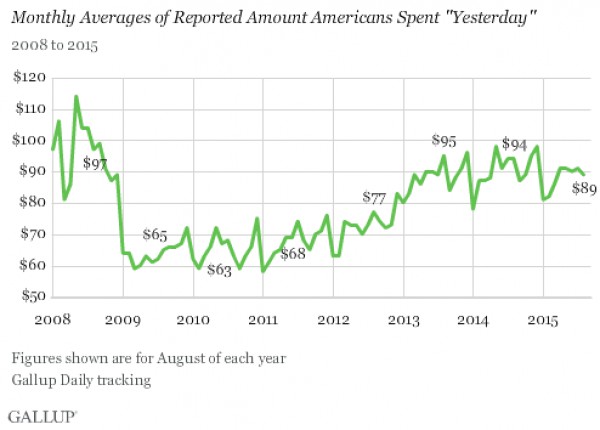 If August is indeed confirmed to be weak, September will be even weaker:
If monthly spending patterns in recent years are any indication of what is to come, spending is not likely to increase in September. In each of the previous five years, spending in September has been lower than in August, including sharp declines of $11 in 2013 and $7 in 2014. In 2008 and 2009, it increased slightly, but only by a dollar or two.

 

Regular declines in spending from August to September are understandable given the end of the vacation season and the end of back-to-school shopping, one of the busiest times of the year for retailers.
The bottom line: "Though down slightly, Americans' spending remains in somewhat of a holding pattern, having stayed within a $2 range for the last five months. But while the average for August is on par with recent months, it remains below averages recorded for August in 2013 and 2014."
Finally, we should note that the market swoon which saw a vicious correction in the S&P500, did not start until after August 19, the day the FOMC minutes were released. Expect to see substantial sticker shock once "mom and pop" open their monthly 401(k) or brokerage statement and find their net worth was quietly truncated by 10% or more. Do not expect a sharp spending rebound to follow.