Singles' Day is the biggest shopping event of the year. In less than a decade, Alibaba Group Holding Ltd. has turned a quirky celebration for young adults in China into a global extravaganza drawing in thousands of retailers and shoppers of all ages, married as well as single. It's spread from Alibaba to draw in other e-commerce operators and this year will spill over into brick-and-mortar stores as well. Drawing inspiration from the Black Friday tradition of special discounts in the U.S., Singles' Day has created a new set of traditions and even a U.S. imitator, Amazon's Prime Day.
1. Why is it called Singles' Day?

When Nov. 11 is written numerically -- 11/11 -- the four 1s evoke "bare branches," the Chinese expression for the unattached. On Chinese university campuses in the 1990s, 11/11 evolved into a student celebration of being single in a culture that emphasizes relationships -- an antidote to Valentine's Day. The country's rising middle class turned that into a phenomenon.
2. Why does Singles' Day revolve around shopping?
Credit Alibaba's billionaire founder, Jack Ma. As he began building the company, he latched onto the idea of making a shopping promotion around a holiday. He chose Nov. 11 starting in 2009. Early on, Alibaba's marketing encouraged consumers to treat themselves in celebration of being single. But the day has never been limited to the lonesome, and it targets every demographic.
3. Is this exclusively an Alibaba event?

Though Alibaba was the first to link Singles' Day to shopping, plenty of rivals have joined in. JD.com Inc. does promotions, as does Vipshop Holdings Ltd. and a raft of other e-commerce companies. Amazon.com Inc., which is a bit player in China, started its Prime Day in 2015 in the U.S. to drive a similar sort of shopping frenzy. A key difference between Alibaba and Amazon is that the Chinese company is a digital landlord for merchants and consumers to find each other, while the empire founded by Jeff Bezos holds much of its own inventory to sell.
4. Is Singles' Day for Chinese shoppers only?
While the mainland is still the biggest driver of sales, Alibaba is trying to make it more global. That means getting foreign brands involved in selling to the Chinese. It's also working to draw AliExpress and Alibaba.com, both English-language websites, into the promotion. AliExpress, which sells to consumers, is promising "millions of deals," with discounts on everything from smartphones and speakers to shoes and cosmetics, which it can ship around the world. Wholesale-focused Alibaba.com is promising free delivery. Both accept common credit cards, including Visa and Mastercard.
5. How big is Singles' Day?
Every year has exceeded the one before. Last year, sales climbed 32 percent to 120.7 billion yuan ($18.2 billion) as customers stocked up shoes, cosmetics, electronics and even cars. Most of the buying was through Taobao and Tmall, Alibaba's main shopping sites. Citigroup Inc. estimates this year's total will reach 158 billion yuan. More merchandise is sold in the 24 hours of Singles' Day than during the entire five-day U.S. holiday-buying spree that begins on Thanksgiving, runs through Black Friday and ends on Cyber Monday.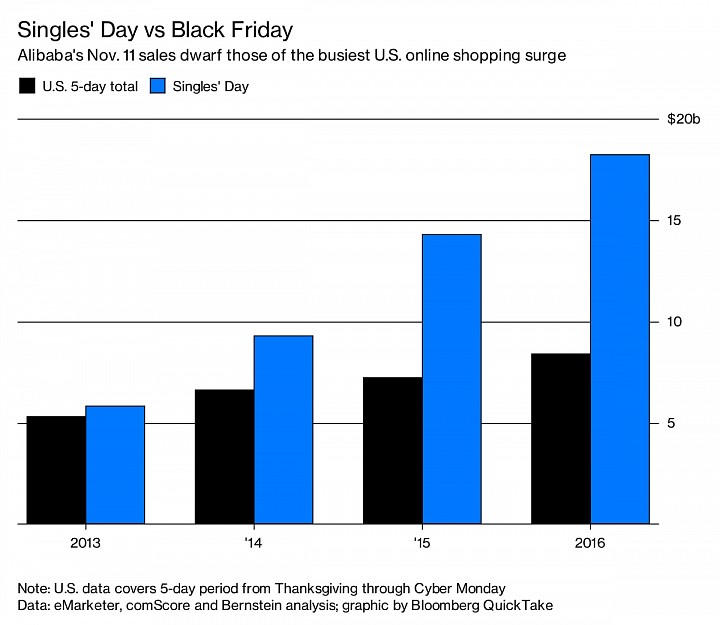 6. What will be different this year?
Ma has been pushing a plan for "new retail" to revitalize existing brick-and-mortar stores. Alibaba has made direct investments in supermarkets and department stores, equipping them with new technology to manage inventory and to serve as distribution centers for online shoppers. It's even connecting mom-and-pop stores to the platform. About 600,000 convenience stores are now using Alibaba's Ling Shou Tong mobile app to procure goods, and about 100,000 retail outlets are being converted into so-called smart stores. The program has drawn 1,000 labels, from Levi's to L'Oreal, letting customers track availability of items and get them delivered.
The Reference Shelf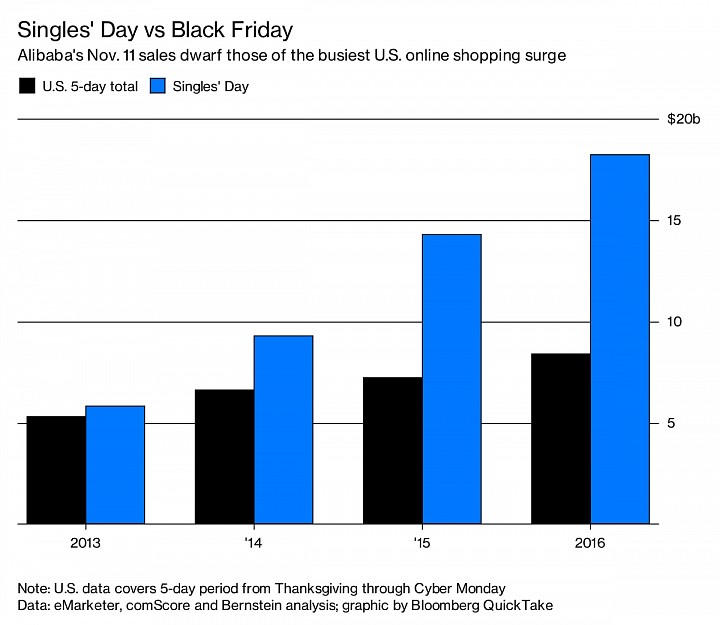 More