The dollar's climb to a seven-month high has Goldman Sachs Asset Management concerned further appreciation could undermine the U.S. economy and deter the Federal Reserve from raising interest rates in December.
The Fed may hold fire if the trade-weighted measure of the greenback climbs to levels last seen in January, the asset manager said in a note to clients Oct. 28. The gauge is at its highest level since March 1. While Goldman said it still expects tightening in December, it has increased its bullish bets on the Mexican peso, Malaysian ringgit and Indian rupee that benefit from higher commodity prices and "decent global growth."
"The Fed has expressed concerns about the dollar strength given the impact on financial conditions," Goldman Asset wrote in the note. "Tight financial conditions contributed to the Fed's decision to delay its first rate hike and we believe that similar concerns may arise if the dollar appreciates back to its January levels."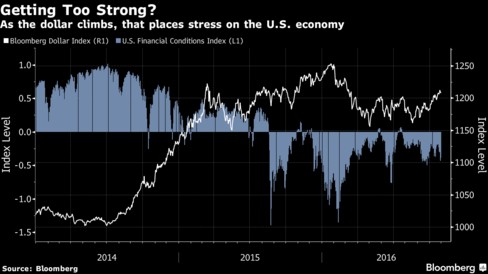 The Bloomberg Dollar Spot Index, which measures the U.S. currency's performance against a basket of 10 major counterparts, advanced 0.1 percent...
More