Starbucks (SBUX) is consolidating, after a slide from a high on the year in June just under 65 to around 58, where price is consolidating.

SBUX Daily Chart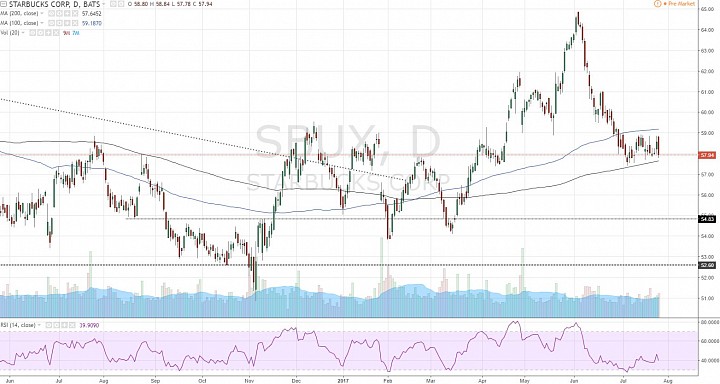 (click to enlarge)

59 Resistance, Bearish Bias:
- There is a support/resistance pivot at 59. I think at the moment, it is proving to be a critical resistance below which SBUX is bearish.
- In other words, a break above 59 could put the bullish outlook back on the map.
- But for now, there is downside risk, especially after the 7/26 session bearish engulfing candle.
- I wouldn't be surprised if the current bearish swing since June extends into August with price falling towards 56, which is a common pivot since 2015.
Today (7/27) is also earnings day after the closing bell. So let's see how the market reacts on Friday. if price does close above 59, we might see the bullish outlook with upside back towards 64. Otherwise, closing under 59 this week should pressure SBUX towards 56.