Xerox profit fell 85% in the first quarter, dinged by higher restructuring charges, as its business remained challenged ahead of its planned separation.
Over all for the period ended March 31, Xerox logged a profit of $34 million, or three cents a share, down from $225 million, or 19 cents a share, in the year-ago period. Excluding certain items, such as restructuring related charges, the company posted earnings on a per-share basis of 22 cents.
The company had guided for per-share earnings between 21 cents and 24 cents, and analysts had projected 23 cents.
Revenue fell 4% to $4.28 billion. Analysts had projected $4.24 billion.
Xerox also said Monday it expects adjusted earnings of 24 cents to 26 cents a share in the current quarter, compared with analysts' expectations of 26 cents, according to Thomson Reuters. And while the company backed its adjusted full-year earnings outlook, it cut its reported 2016 view to 45 cents to 55 cents a share, compared with prior guidance of 66 to 76 cents.
<!== INSTRUMENT %% %120% ==!>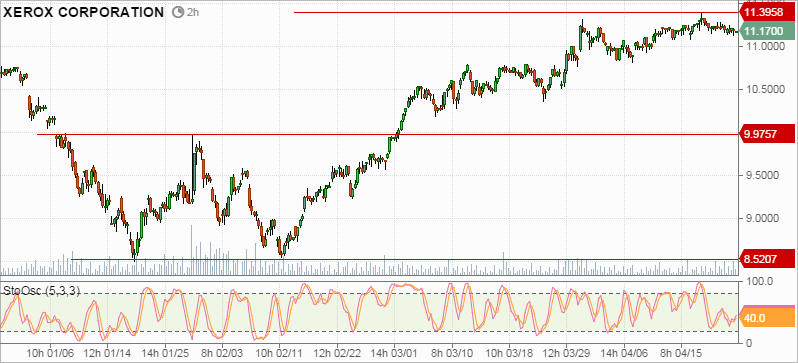 Potential from the figure "Double bottom" was well played. Suppose soon stocks go down again.