17 Entered... Despite the onslaught of attacks from the other 16 GOP Presidential nominee candidates, Donald Trump came out the 'winner' in his usual brash manner threatening to run as an independent and able to dominate the conversation, pitbull back at any jibes, and shrug off cozy Clintonite comments. Ted Cruz and Rand Paul appeared to have a strong showing but "had a tough night" in Trump's words. Rick Perry blew up again, calling the former President Ronald 'Raven' - which his team vehemently denied the entire FOX watching audience heard. Carly Fiorina easily won the undercard against a field of has-beens and wannabes and surely deserves some more top-billing in the next Republican death-match. In the immortal words of Kenny Rogers, we hope a few of the 17-strong gaggle now "know when to fold 'em," and can we suggest Rick Perry's corner "throws in the damn towel."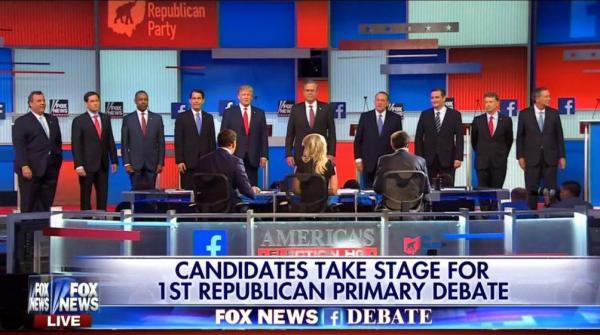 The Main Event..
Trump came out swinging hard...
*TRUMP ONLY CANDIDATE WHO DOESN'T PLEDGE TO BACK GOP NOMINEE
*TRUMP SAYS WON'T RULE OUT INDEPENDENT BID FOR PRESIDENT
As AP reports,
The first Republican primary debate got off to a contentious start Thursday, with billionaire businessman Donald Trump declaring he could not commit to supporting the party's eventual nominee — unless it's him — and would not rule out running as a third-party candidate.

 

"I will not make the pledge at this time," Trump said. He also refused to apologize for making insulting comments about women, saying, "The big problem this country has is being political correct."

 

Kentucky Sen. Rand Paul immediately jumped in to challenge Trump on his answer to the question about supporting the nominee.

 

"He's already hedging his bets because he's used to buying politicians," Paul said.
*  *  *
Trump spoke the most...

Donald Trump addresses political correctness in the U.S. at the GOP debate http://t.co/0EA9i4yHRh pic.twitter.com/fod5sM7MkU

— POLITICO (@politico)

https://twitter.com/politico/status/629462071118311424
*TRUMP, ASKED ON COMMENTS ON WOMEN, SAYS NOT POLITICALLY CORRECT
*TRUMP REITERATES NEED TO BUILD A WALL ON U.S.-MEXICO BORDER
*TRUMP: MEXICO SENDS `THE BAD ONES OVER' TO THE U.S.
*TRUMP SAYS HAS USED U.S. BANKRUPTCY LAWS TO HIS ADVANTAGE
*TRUMP: `I HAD THE GOOD SENSE TO LEAVE ATLANTIC CITY'
*TRUMP: `I'VE EVOLVED ON MANY ISSUES' OVER YEARS
*TRUMP: IF IRAN WAS A STOCK, YOU SHOULD GO OUT AND BUY IT
*TRUMP: IRAN IS A `DISGRACE'; SAYS WOULD BE STRONGER THAN OBAMA
Trump: "Our leaders are stupid. Our politicians are stupid."

— John Bresnahan (@BresPolitico)

https://twitter.com/BresPolitico/status/629463611505819648
Headlines for rest of field... (based on Bloomberg Politics)
*CHRISTIE, ASKED ON NJ DOWNGRADES, SAYS WORSE BEFORE HIS TENURE
*KASICH DEFENDS MEDICAID EXPANSION IN OHIO AS COST-SAVING
.

https://twitter.com/JohnKasich

: "Donald Trump's hitting a nerve in this country. People are frustrated." http://t.co/2Jq1Fytklo pic.twitter.com/2tMXJSYxC0

— POLITICO (@politico)

https://twitter.com/politico/status/629465054681952257
*RUBIO: U.S. NEEDS E-VERIFY SYSTEM TO BOLSTER IMMIGRATION LAWS
*SCOTT WALKER SAYS IMMIGRATION SYSTEM SHOULD FAVOR U.S. WORKERS
*PAUL SAYS CHRISTIE FUNDAMENTALLY MISUNDERSTANDS BILL OF RIGHTS
*CHRISTIE SAYS RAND PAUL BLOWS `HOT AIR' ON PRIVACY, TERRORISM
*BUSH: KNOWING WHAT WE KNOW NOW, STARTING WAR IN IRAQ A MISTAKE
*WALKER: U.S. NEEDS TO STOP `LEADING FROM BEHIND' IN MIDDLE EAST
*HUCKABEE: COULD GET RID OF IRS WITH TAX ON CONSUMPTION
*CARSON: U.S. TAX CODE SHOULD BE MODELED ON 10% BIBLICAL TITHE
*HARPER SAYS OPPOSITION PLANS WILL LEAD TO PERMANENT DEFICITS
*JEB BUSH ON KEYSTONE PIPELINE: `OF COURSE WE'RE FOR IT'
*BUSH SAYS 2% U.S. GROWTH A DANGEROUS `NEW NORMAL'; HE SEEKS 4%
*CHRISTIE: RAISE U.S. RETIREMENT AGE 2 YRS PHASED OVER 25 YRS
*CHRISTIE SAYS SOCIAL SECURITY SHOULD BE MEANS-TESTED
*RUBIO: NEVER ADVOCATED FOR ABORTION IN VIOLENT CASES
*BUSH: NOT TRUE THAT HE CALLED TRUMP `BUFFOON'
*KASICH: IF MY KIDS WERE GAY, WOULD `LOVE AND ACCEPT' THEM
*WALKER SAYS PUT FORCES ON EASTERN BORDER OF UKRAINE, BALTICS
*WALKER SAYS WOULD SHOW `STEEL' TO RUSSIA, NOT `MUSH' SOFTNESS
*RAND PAUL SAYS HE'S ONLY CANDIDATE W/ 5-YR BALANCED BUDGET PLAN
*PAUL: U.S. MUST STOP BORROWING MONEY TO AID OTHER COUNTRIES
*PAUL: U.S. COULD AID ISRAEL FROM SURPLUS, NOT BORROWED FUNDS
Rand: "I don't want my marriage or my guns registered in Washington"

— Megan McArdle (@asymmetricinfo)

https://twitter.com/asymmetricinfo/status/629480019576750080
When the government tries to invade the church, it's time to resist.

https://twitter.com/hashtag/standwithrand?src=hash

— Dr. Rand Paul (@RandPaul)

https://twitter.com/RandPaul/status/629480190813569024
The attacks were varied...
Attacks in the first half of the debate include jabs between Paul, Trump and Christie. http://t.co/8Qif6AgSSI pic.twitter.com/v2HOkgDg6G

— NYT Graphics (@nytgraphics)

https://twitter.com/nytgraphics/status/629472548221243392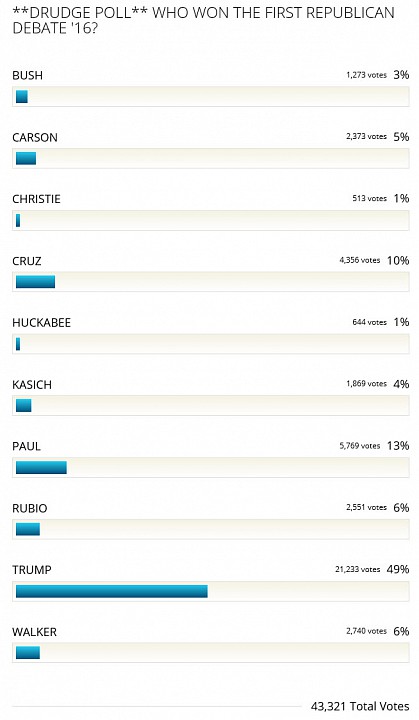 Candidate Mentions (by minute)...
Donald Trump mentions by minute.

https://twitter.com/hashtag/OptimizedListening?src=hash

https://twitter.com/hashtag/GOPDebate?src=hash

pic.twitter.com/Yx6LgL61GY

— Echelon (@EchelonInsights)

https://twitter.com/EchelonInsights/status/629484687002615812
*  *  *
The Undercard....
Carly Fiorina's coming out party but the pre-debate debate was summarized as an attack on Trump and Clinton...
In the 5 p.m. debate, the Republican candidates directed their attacks off-stage http://t.co/2oWLDRpxqE pic.twitter.com/KICNtBA8mR

— NYT Graphics (@nytgraphics)

https://twitter.com/nytgraphics/status/629424028923613184
The 'biggest losers" debate was won by a landslide by Carly Fiorina...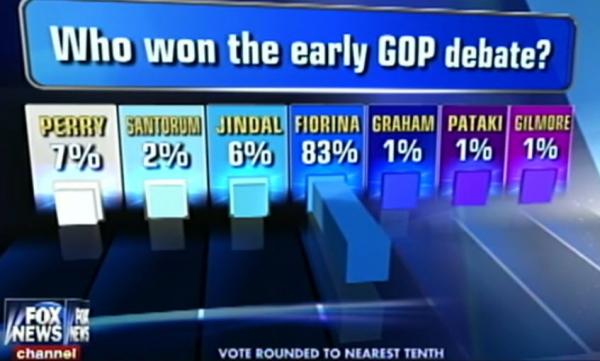 Though Santirum spoke the most...
Who spoke the most in the 5 p.m. Republican debate http://t.co/wM2sZu0hex pic.twitter.com/ZpwLUmcBwn

— NYT Graphics (@nytgraphics)

https://twitter.com/nytgraphics/status/629427376057917440
Artist's impression of Rick Perry's team..."Throw the damn towel!!"
And The Other Not-So-Magnificent-Seven... (via Bloomberg)
Here's a look at how each candidate fared under circumstances like nothing they've ever faced before, and like nothing they hope to ever go through again.
Carly Fiorina 
Easily the most polished of anyone on the stage; you can see why she's been impressing early audiences, and just how much of a difference she could make if she ever gets promoted to the adult's table. She was assured and strong throughout, even when she connected Donald Trump to Bill Clinton. Moderator MacCallum mocked her for comparing herself to the "Iron Lady" Margaret Thatcher, but if you had no context for either woman and were just tuning in, you could almost see it. She also has the vital political skill of being able to deliver a shiv with a smile, even making an angry phone call to the Supreme Leader of Iran–"on Day One of the Oval Office!"–sound like a phone call you'd look forward to, even while you were shaking. Interestingly: She was the only candidate to consistently reference God. Though should be more careful about where she leaves her notes.
Jim Gilmore 
He hasn't even been in the race a week, so, understandably, he spent his first question just rattling off his biography. He did it a little too fast, though; he actually ran out of factoids three-quarters of the way through his answer, which was a bit awkward. Every question directed toward him had an audible sigh before it, like a Little League coach who has to give an at-bat to every kid, even when they know the other kids are the only ones who can hit the ball. He didn't embarrass himself, but he didn't do anything to distinguish himself either, which adds up to a big net negative. Also, his suit looked too big for him.
Lindsey Graham 
You won't find many Republican presidential candidates answering their first question at a Republican primary by going into extensive detail on fossil fuels, but hey, he's been a Senator for a long time. Graham attempted to make up for by turning into the world's most polite hawk the rest of the way: Graham turned every question after that into a diatribe against ISIS and Al Qaeda and our need to be aggressive in the Middle East. (No man has ever looked so genteel while vowing to secure the violent deaths of his enemies.) He even batted away a Planned Parenthood question, saying that the Middle East is the real "War on Women." He remains a party attack dog to the end, particularly when it comes to Bill and Hillary, saying he's "fluent in Clinton-speak; I've been dealing with it for 20 years." Were you excited to hear the revival of the "definition of what 'is" is" Clinton chestnut in the year 2015? If so, Lindsey Graham was here for you tonight. 
Bobby Jindal 
If anything, he succeeded in being a lot less Kenneth Parcell than in his
to President Obama's State of the Union, which is a start. It's still disconcerting seeing such sharp rhetoric coming out of the mouth of such a friendly looking guy; he says he's "taking the handcuffs off the military" to go after ISIS, but it feels more like the waterboy giving a big speech rather than the coach. (His "Obama and Hillary want to turn the American Dream into the European night" felt decidedly unapocalyptic.) He definitely scores points for being the only person in the debate to go after Jeb Bush, both a sign of the strength of Donald Trump and the weakness of Bush at this point; two months ago, this debate would have been seven people a race to call Bush the "establishment" the way Jindal, and Jindal alone, did this time. On the whole, though, he spoke the way a lot of voters in his party think, even if he doesn't seem like the candidate they imagine speaking for them. Also, if elected, he is absolutely going to waste his first Executive Order, saying, he'd sign one "protecting religious liberty." Who wants
https://twitter.com/CharlesMBlow/status/629413136496463872
?
George Pataki
Well, George Pataki was here. He hasn't really done anything, or even been in the public eye, since he was governor of New York, so he kept bringing that up like a middle-aged soft-in-the-middle jock who can't stop telling you about the time he hit the game winner against Hickory South back in high school. Did you know Pataki was the governor on September 11? Pataki is happy to remind you several times. It was probably wise for him to focus on that, because his handling of the abortion question–he's the only pro-choice candidate running for the Republican nomination–was muddled, defensive and weak, though, really, in this primary, and with those recent Planned Parenthood tapes, how could it not be? He was also the only candidate who consistently talked longer than the buzzer. It's difficult to blame him.
Rick Perry 
No one knows the perils of a poor debate showing better than Perry, so he seemed determined, almost over-determined, to show off his debate bona fides here. He stiffened his jaw, he dialed back the Texas homespunisms, he even threw in a "I'd say HELL NO" for good measure. (To the Ayatollah of Iran, no less, a guy who knows, in conservative minds, from Hell.) He may have been a little too fired up for the room; it's difficult to be too much of a tough guy when there are more people on stage than in the audience. It was particularly strange to see him go so aggressively after Donald Trump, considering Trump wasn't in the room; it's odd to stand up to a guy who doesn't even need to bother to show up yet. He definitely wanted Trump's mojo, though. His answers on immigration were as forceful as anyone said on stage all night, tripling down to the point that he actually claimed his primary purpose in office would be to enforce the fight against illegal immigration, getting into so much detail that he even mentioned specific helicopters. Also: Good to know someone still uses Wite-Out. 
And then there's this...
Rick Santorum 
Santorum, who was as angry as anyone about these debate rules, went after them even further, pointing out (while inexplicably lapsing into the first person plural) that "we were even further behind four years ago than we are today." (A salient point for a guy who won Iowa last time.) His answer on immigration—pointing to how his own father, an Italian immigrant, was separated from his father under Mussolini, said "America was worth the wait"—was personal but also underlined that he's for separating families if it means following the letter of the law. Interestingly, Santorum, the supposed holy roller, didn't say the word "God" once. He also brought up his "20-20 Perfect Vision of America" plan, which, when it comes to catchiness, isn't quite 9-9-9.
*  *  *
So in summary.. Fiorina #winning... Perry #RonaldRaven... and this...
Debate update pic.twitter.com/JnsY9MPqBR

— Michael Salfino (@MichaelSalfino)

https://twitter.com/MichaelSalfino/status/629466238184349698
Finally where the moneyis being bet... (via PaddyPower)