Pros and contras to neutral wheat mkt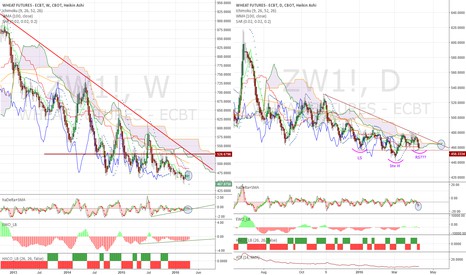 As you will see the details Wheat0.00%% has been trading absolutely neutral. Low volatility consolidation.
However I mark the bias possibly bullish , mainly because of longer term positive divergences.

Weekly:
- Major trend is still bearish , Ichimoku setup is bearish . Key strategic reversal level is around 525. Closer key is Kijun Sen at 486.
- Heikin-Ashi has shown indecision and consolidation for last 4 weeks! Long wicked doji candles, haDelta stuck at zero.
- Positive divergences: haDelta has been building it since Aug/2015. We see EWO has also built bullish divergence.
All in all the price ihas been under pressure, but somehow the bearish momentum just can not accelerate again at the decade low.

Daily:
- Ichimoku setup has been neutral since early March. Equilibrium is 466. Please note that future Kumohas become very thin (very low volatility, which is also reflected in ATR), and possibly about to deliver a bullish twist ( bullish Senkou cross)
- Heikin-Ashi is short term bearish , but with decreasing momentum: haDelta hit local low, and may cross back above its SMA3.
- EWO is neutral.
- Price pattern: In case 455+/- short term horizontal key level holds, and price pops from here, later a bullish Kumo breakout would also mean a confirmation of an Inverse H&S pattern. This double bullish signal could have a tgt0.00%% to 500.


You have to watch Heikin-Ashi signals carefuly here at key levels.
If anything, I am interested in buy only. I don't see short wheat0.00%% a good risk reward, but if signlas confirm, I can be comfortable to build and ride 1-2 units long position.